Hello and welcome to StarMade,
New Tutorial
The old tutorial had many problems. One of them was, that the messages were time based, so the player had to read fast or reset the tutorial over and over. The new system is slide based, so the player can decide when to proceed to the next step. The new tutorial is also a lot more visible in its own window. Furthermore I added window dragging functionality, so the player can change the position of the window.
New Planet Type: Desert
A new desert planet type is now in the game. Desert planet a lot flatter than earth, or mars like planets, and they have little cacti on top (still need a better texture for that. Of course they also feature their own unique set of minerals to find. Keep in mind that the distribution of materials is not yet final.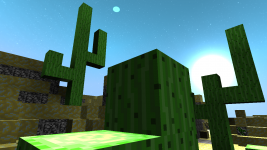 New Cave Generation
In the last Version, natural caves were very rare. I added a new algorithm to procedurally generate caves under the surface of any planet to explore.
Noteworthy Bug Fixes & Small Features
asteroid anomaly fix (RIP)
added mouse sensitivity to options
activating the gravity block while in a gravity field will deactivate it
fixed bug where options and keyboard-binding panel would use the same scroll-pane resulting in a blank option panel if keyboard-panel is scrolled all the way down
added item splitting in inventories (right-click)
added indications for blocks that can be entered or activated
fixed bug where catalog would falsely load the wrong blueprint, when there are two that start with the same name
What's next
Another planet type is already in queue. Also, the docking system needs a complete makeover.
Thanks for playing StarMade,
- schema