Hello and welcome to StarMade, this update introduces shops with stocks and prices based on them.
Economy System
Shops now have a stock. It will be currently filled randomly, so finding new shops in the universe get more important. The price of a module is now based on the stock of the shop. The prices are still a little unbalanced, but I'm working on that. The system is based on offer & demand. This means, the more quantity of an item is available in a shop, the lower the price will be.
New Shop UI
As more and more blocks are introduced into StarMade, I refined the shop user interface to be more convenient to use. Items are now ordered in categories (ship, space station, terrain, etc...). The system is very abstract and easy to change, so I can further deepen the hierarchy of the categories.
More Alpha Testing
You are happily invited to join us in our alpha tests for StarMade multiplayer. For more information, go to www.star-made.org/forum
Stuff to come
As the multiplayer gets more and more stable, I'll soon focus on new features. One of them will introduce a very neat system, with which you can upgrade your ship even further.
Here is a rude random asteroid, a tester found: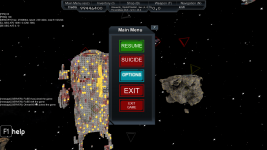 Thanks for playing StarMade,