Hey all, with the update coming very soon I wanted to get your eyeballs ready for the new textures this week with the complete sheet of blocks and textures that are in the test build right now. I will also be updating the descriptions, prices, etc.. for every item after this update, for the next update.
I won't give away too much about the update right now, you should check out our indiedb page if you want to see some leaked screenshots ;). We also have the first weekly video tutorial straight off the youtube for those of you that may be having some struggles with building a ship and getting started, check it out below:
We are really excited to unveil all of the awesome work that has gone into this update, so stay tuned and thanks for playing StarMade!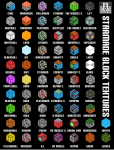 - Beetlebear