As the chilly winter ends, Indie Royale is debuting six quality, independent games for its Spring Bundle - altogether worth nearly $50 USD, and available now at less than one tenth of the recommended retail price, with the price increasing (and decreasing!) as more buyers jump on!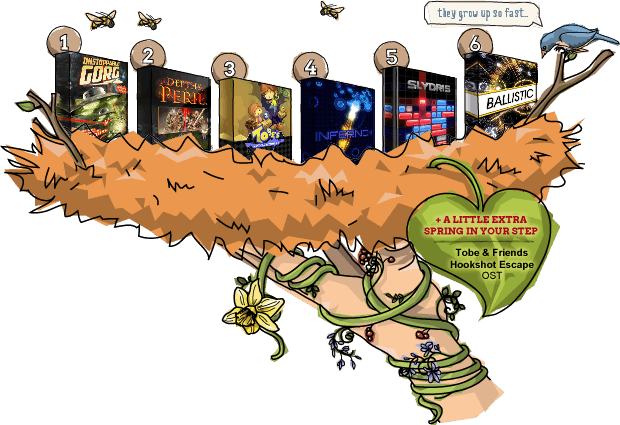 The bundle starts off with Futuremark's standout tower defense title Unstoppable Gorg, available for Windows and Mac on Steam, and Windows-only for Desura/DRM-free. The game is packed with campy 1950s sci-fi film nostalgia, with TotalBiscuit praising its "interesting and innovative [gameplay] mechanics", as the player takes on rubbery aliens by rotating weapons through outer-space orbits.
Also featured is Soldak Entertainment's in-depth action RPG Depths of Peril, available for Windows and Mac on Steam, Desura, and DRM-free. The title, described by GamesRadar as "Diablo meets STALKER" on its original release, features tens of hours of questing and combat in a living game world, where competing factions - run by the AI - battle the player for supremacy.
Also joining the Spring Bundle is Secret Base's smile-inducing 2D platformer, Tobe's Vertical Adventure, for Windows on Steam. The alluring 16-bit experience offers two characters with distinct platforming mechanics. Tobe and his crush, Nana, star in what IGN calls a "standout platformer" with a "classic gameplay hook and charmingly nostalgic approach."
Finally, Indie Royale favorite Radiangames (Super Crossfire) returns with not one, but _three_ intense arcade-style titles - available DRM-free and on Desura for Windows and Mac. Inferno is a 40+ level, atmospheric twin-stick action-RPG starring drones. Slydris is an addictive block-based puzzler with a catchy electronica soundtrack, and Ballistic's intense twin-stick Geometry Wars-style arcade action is filled with concentric waves of devious enemies.
Finally, those who pay $5 USD or their currency equivalent during the Spring Bundle get Danimal Cannon's 'Roots' music album - one of the most acclaimed chiptune releases of 2011, and featuring a combination of wicked Game Boy DMG-01 and shreddin' guitar-centric remixes in 320k .MP3 and .FLAC formats.
As always, generous purchasers keep the bundle price low and give more to developers, as Indie Royale runs on its familiar short duration model where the price will automatically increase as more people buy the bundle.
Grab it now at: Indieroyale.com