Hello fellow Gamedevs and potential players !
Today I thought that the weather could trigger a bit of nostalgia in our hearts, and that it would maybe be a nice idea to think about where we came from. I was digging into the old files of our party game "Skelittle : A Giant Party !!" and found some extremely interesting files in there !
The concepts here were inspired by the Mexican "Day of the Dead" aesthetics and Sans from Undertale was also quoted as one of our major references ! The characters's sizes were - and are still - very different so the players could easily spot their characters even if they were colour blind.
The character then were too "skeletton-ish" and the team thought that maybe it would be a problem for the younger audience, so they decided to improve them a little bit and give them more "human" feature, such as, you know, an actual - very pale - skin.
We've been sticking to these designs quite a lot, most of our assets still have these characters even though we reworked them lately. The team was very satisfied with their designs then and we thought we'd keep them, but we've attended conventions and asked for feedbacks from large groups of non-gamers on Facebook.
We've had to face two main critics : The characters were too small on the screen and their "dominant" colour was not obvious enough when the camera got too far away from them, and some people told us that they wouldn't let their child play Skelittle : A Giant Party !! as they found their eyes scary on the artworks.
The team decided to keep only four playable characters, unfortuntely, time played against us, we don't know - yet - if Vick and Clem will make a comeback, as we are still working a lot on the mini games and that we have a schedule to stick to, but who knows, maybe in the future they'll be there !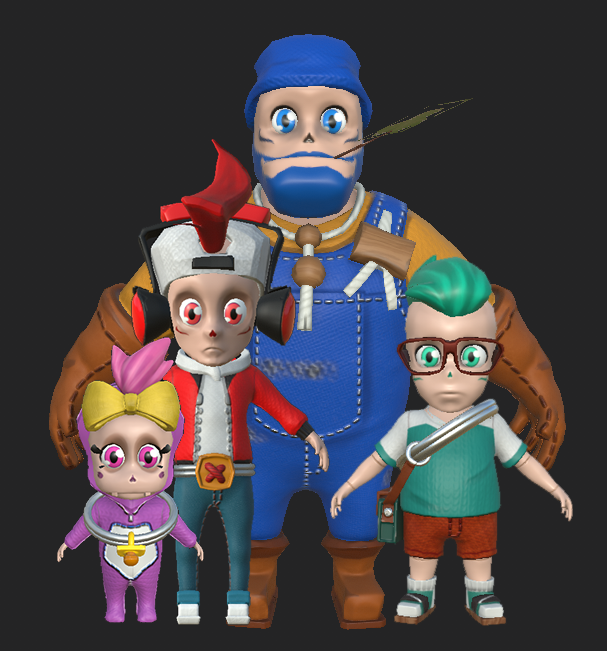 Here are the latest - and definitive - Skelittle version !
In the end, we had to "humanize" them a lot more than expected, and made their eyes look "normal". Our 2D artist made sure to let their dominant colour more obvious on their upper body, so that people would not be lost anymore during the mini games. We've also thought that it was a bit sad to have a bunch of different characters with the exact same facial expression all the time !
On the screenshot just above, you can see that they obviously lack a mouth and... Eyebrows ! Both of these features will be added after, so we can change their expressions, depending of their victory, if they are on the podium and such things ! Until then, they'll look particularly weird and creepy !
And that's it ! Our tiny Design history is done for the moment ! Which Skelittle version did you prefer ? What would you eventually add ? :)
To thank you guys for reading this article, here's a bunch of Steam Keys, first arrived, first served ! We hope that you'll like Skelittle : A Giant Party !! at least as much as we love crafting it !
6HFA3-JGI27-VQ86E - Claimed ! -
VV8W3-RY2Y0-7MINC - Claimed ! -
8JTPM-B5ITR-I0W6R - Claimed ! -
A2FHQ-ND080-5C7W5 - Claimed ! -
85G3K-6V5XQ-G03F2 - Claimed ! -
We're going to have a BIG update coming in next week hopefully so stay tuned !
Learn more about Skelittle : A Giant Party !!
Follow us on Facebook
Follow us on Twitter
Chat with us on Discord
Check out our videos on Youtube
Subscribe to our Newsletter on the website