What's been going on since v2.0 was released last year?
Well, more than you might have realized. Let's dive in with the "good news" first!
Sim Hero Online
Yup, we're gonna give it a try. The base game is coded and working:
Heroes can be hired & fired
Heroes can be improved as they level up
You can send your heroes on adventures and/or jobs
Your kingdom progresses every real world day (and can be improved)
There is an overall co-op goal everyone works towards
Hero statistics are tracked (what would a proper Sim be without stats?)
What's left before initial Alpha testing? Well, only 1 feature actually: the cooperative adventures. It's pretty awesome to have your heroes participate in adventures for YOU. But, we thought it'd be even better to allow for cooperative adventures where each player submits 1 hero to the group party. So, "single player" adventures are already working fine, but we're still working on the multi player adventures. Once that is done, yeah, we can see announcing a public Alpha.
A VERY early screenshot:
And another one: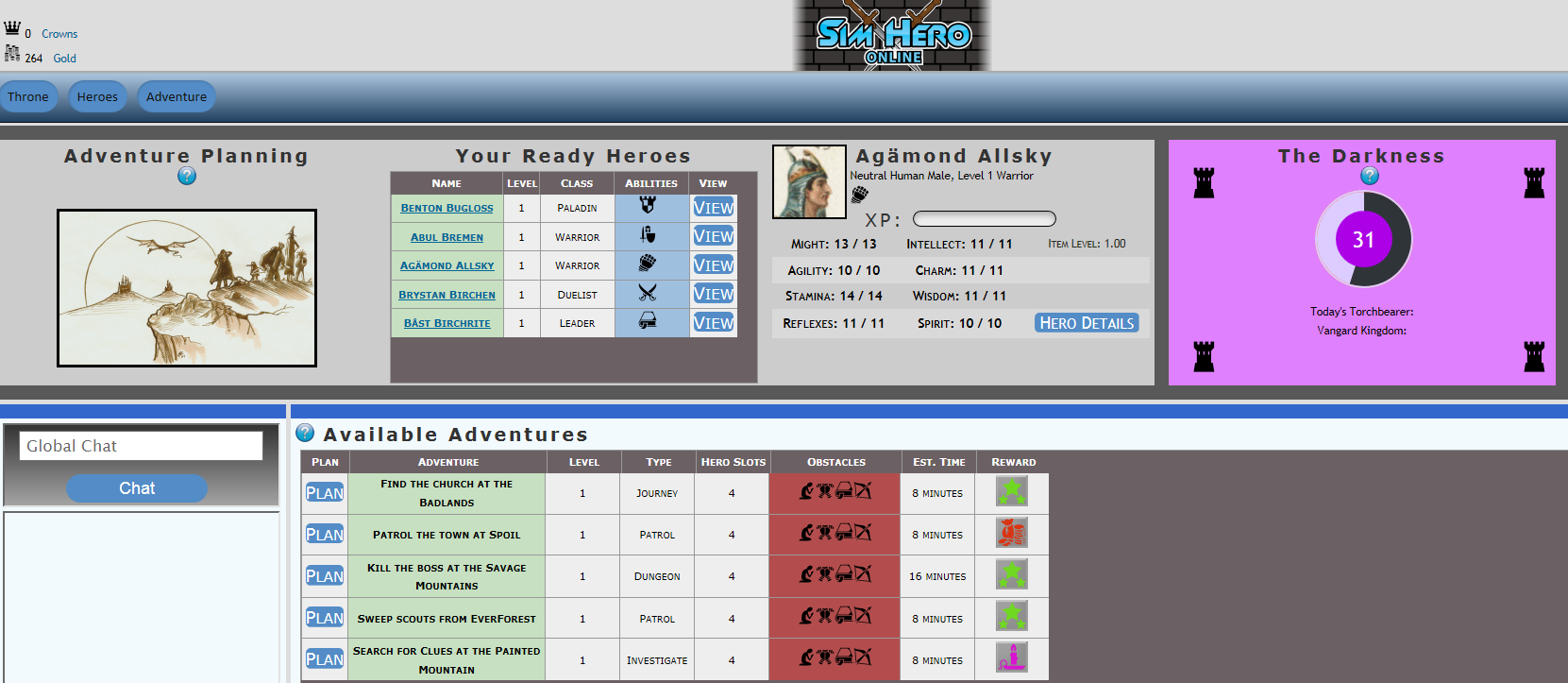 No sense in getting into any more details at this point, but it's far enough along that we feel comfortable announcing it.
When the time comes, we'll likely rename this version "Sim Hero Classic" and link to the new IndieDB page for Sim Hero Online. Stay tuned / follow this game for the announcement for that!
Why focus on an entirely new game, on a new platform? Well...
We've had some problems
The resource who ripped-out RPGMaker's battle system and inserted the automated system for Sim Hero had fallen off the earth early in 2015. So, I'd been doing the best I could, but I couldn't keep supporting/improving something I didn't write. It became increasingly clear to me that I could only take Sim Hero so far in it's current incarnation.
Then, late last year, I lost my other resource who handled most of the UI work due to family tragedy. Again, her skills were difficult to replace and Sim Hero's future was in great doubt.
Learning from these lessons, Sim Hero Online isn't relying on any coding/HTML assistance from outside sources - it's 100% in-house. So, hopefully, we can avoid the same sorts of problems in the future.
Stay tuned!
So, that's kinda where we're at. I wish we could continue to improve & expand on the original Sim Hero, but I feel it makes more sense to start anew, without relying on 3rd parties for integral systems like game code & UI.
Stay tuned here for the public alpha announcement!