It's important to die
One of the things we miss the most from older games is the impact of the death of the protagonist. Since the time when Ubisoft released Prince of Persia: The Forgotten Sands (2010), death really has had no impact. (This probably happened earlier than this game, but this was where I became really disappointed with a series for removing death from the equation.)
In the games we played as kids, death mattered--we were afraid of dying because there was a consequence. We had to restart a level--OMG the minecart levels on Donkey Kong Country were the worst--but there were also a finite number of lives. If you died five times without collecting 100 bananas or a red balloon, you had to return to the load screen, crying tears of shame.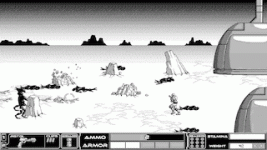 So we really like the movement toward roguelike games. In roguelike games, death of a character is permanent. Some roguelikes are devilishly hard and you lose all your meager income before every run (Rogue Legacy). And some are slightly more fair and allow you to keep major achievements, such as ships and weapons in FTL.
Rogue Invader is born
Because we believe that death should matter and have impact, we wanted to communicate some of that in the title. The method we concluded on (although it's a bit cliché, we admit) was by using "Rogue" in the title.
We knew our game would focus on a single soldier at a time, and it would be an invasion game, so we concluded that "Invader" would be a solid way to communicate that.

After checking available domain names, we were set on Rogue Invader. We're working on some additional ways to work the "Rogue" name into the game lore, so that we have a less cliché reason for using it, but for now we've decided on nothing.
What do you think? What would you have titled the game? How can we work "Rogue" into our lore better?
Answer in the comments.
Nathan and Lee J
As always, hit us up on Twitter: Twitter.com
And track us here on IndieDB.
Dev Update--19 May 2015
Our focus this week is on two things: level design and integrating female characters into the game. As we've established a strong working proof of concept, we've decided to move to out next big step: preparing for Steam Greenlight submission. We believe submitting a strong polished game, because those are the types of games we give Greenlight approval to (and the type we see consistently Greenlit). Thus we are focused on developing the meat for our game and polishing it relentlessly.
So for the second week in a row, Nathan and Lee J will be working on drastically different areas of the game. Nathan is working on developing four (of at least eight) level designs that will show a huge amount of area for our players to navigate. Some will teach the players to use cover, others will be devoid of cover and force the players to dodge, roll, and move to survive.
(Example current sprite with placeholder next to it, will be replaced next week.)
Lee J's job is a bit less simple:he gets to create placeholder sprites for every piece of female movement (effectively doubling the current number of sprites in the game), then rewrite and add to the current code, accounting for player gender to make the new sprites integrate seamlessly. Sometime next week, Nate will build the female model and export all her movements, so they can be fully integrated into gameplay.
Rogue Invader is coming. And it will be as stunning as the trailer.