Where we are: sound is a priority
As we continue our development process, the time has come to reach out and look for a composer and sound artist. We want to make a public call here so the community is aware of where we are in production, as well as what to expect for the sound of Rogue Invader.
If you compose music and would like to work on Rogue Invader, Please read our expectations of you below, and submit a bid to marketing@squishygames.com, with the subject line "Music bid for Rogue Invader."
Quality over all
Our game is created to mimic the visual tone of the late-1980s Apple Macintosh with quality that compares with today's best games. We are looking for a composer who is talented and experienced enough to match our level of quality and passion for the project.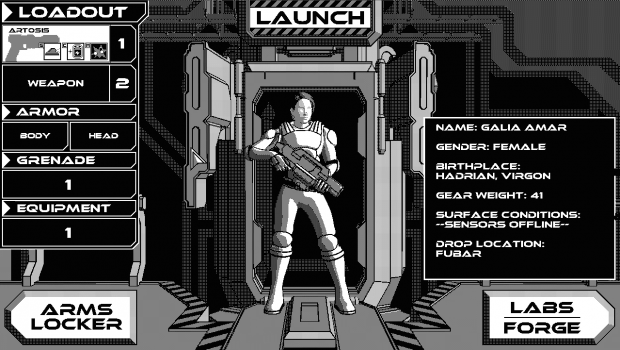 Our expectations
We expect to publish Rogue Invader in Fall 2015. We are looking for the following to finish the immersive experience of Rogue Invader:
11tracks, including

90-second main menu / main theme track
four 2-minute combat loops

should include variations on selves and main theme
will include suggestions of player progress through levels:

badlands/outskirts, zeno fortress, factory, and final lair

track for opening cutscene combined with provided character dialogue: 90 seconds
track for closing cutscene: 1-minute
1-minute track for miniboss combat
1-minute track for final battle combat
2 x 15-second player death tracks

sounds for the following:

10 reload sounds for weapons
10 firing sounds for weapons
10 hit sounds for weapons
4 destruction sounds each for

grenades
mortars
gas crates
rock / rubble
metal cover / structure

6 unique alien death screams
bridge opening and closing
conveyor belt
metal forging
shield generator hum
hover vehicle
large metal doors open/close
robotic servo

environmental and atmospheric effects

four outdoor ambiences (e.g. rushing wind, raging fire, etc)
two spaceship interior ambience
one exterior capital ship rumble ambience
Please include with your bid:
links to your website and demo reel
a 2-minute track with one minute of music for the carrier (main theme/main menu) and one minute of combat
a paragraph regarding your impressions of Rogue Invader We want someone who shares the vision and excitement we have
If you only specialize in music, not sound (and vice versa) that's all right. Send your work our way.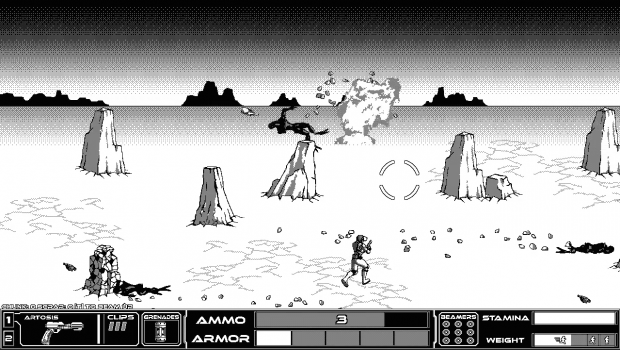 You can view images and videos of Rogue Invader
and you can play our demo, downloadable here: Indiedb.com.
Creative launchpad
Rogue Invader is a one-bit game, but we are developing an immersive experience. Thus we are uninterested in 8- or 16-bit type sounds. Unlike old cartridge games, space is not at a premium. We are looking for music of type and quality similar to Michael McCann's score for XCOM: Enemy Within. We love the military rhythms McCann developed and the epic style of similar scores.
We are also huge fans of Michael Giacchino's Star Trek, Bear McCreary's Battlestar Galactica, anything by Hans Zimmer, and Klaus Badelt's Equilibrium score. Having worked on countless graphic design contracts, we understand the frustration that comes from clamping down on creative talent. We aren't asking for exact copies of music from the aforementioned composers, but we wanted to give you a touch point for the music direction we want to hear in Rogue Invader.
We will accept bids until 2 July 2015.
If you need more specific information on the track count, or have other questions to ask us, email us at marketing@squishygames.com, or tweet at Twitter.com.
We look forward to receiving your bids and working with you,
--Nathan & Lee J