Though you can read the complete changelog below, the most important updates are as follows;
A new customizable game mode! You can customize many aspects of the game. Here's a complete list of everything you can customize, to make the game as easy or as hard as you want! Loot rarity, gun rarity, zombie max (spawn cap), zombie spawn rate, zombie speed, zombie health, reload mode (either fast or realistic), and survival needs.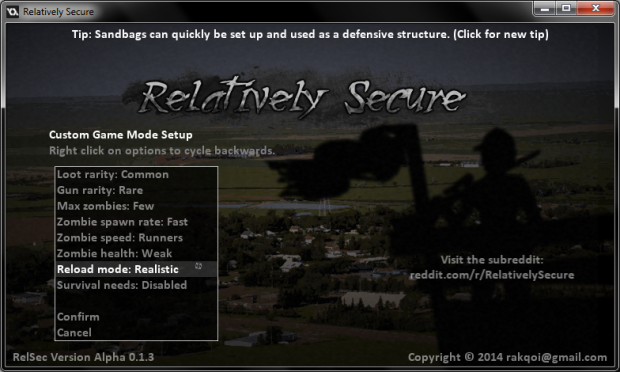 Zombies with their stats maxed in custom mode: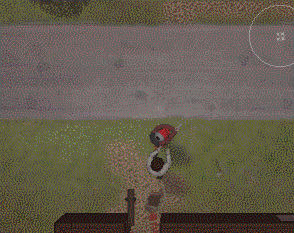 Completely changed how food/drinks work! They're no longer stackable, but you can use them multiple times until they're used up, so it's practical just to carry one bottle of water that you refill. Some items even have a sprite that shows how many uses are left!
Hovering over an item now shows more info! You can hover the mouse over an item in the inventory, in a container, or on the ground to see extra info such as weight, how many bullets in the magazine, what type of ammo, how many uses for a food/drink item, how much hunger/thirst food and drink fill, how full a bucket of water is, etc.
Showing hover, as well as boxed ammo crafting: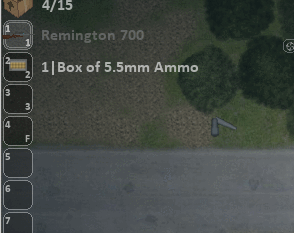 Zombies now suffer knockback! They get pushed back when struck with melee (and often bullets), and you can even push them into other zombies to slow them down. Though knockback is minimal, the heavier the weapon the more of an effect it has!
Showing knockback on zombies (using the new weapon):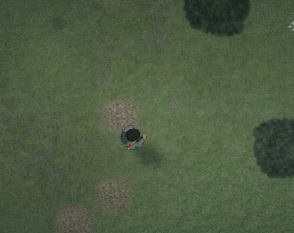 Alpha 0.1.3 Complete Changelog:
_______________________________________________________
Gameplay
* Added new game mode: Custom Mode;
* Allows you to create your own game mode and play how you like.
* Customize loot rarity and gun rarity
* Customize zombie spawn cap and spawn rate (also allows disabling zombies entirely)
* Customize zombie speed and health
* Customize reloading mode (either "fast" like gunner mode or "realistic" like survival)
* Customize survival needs on or off (hunger, thirst, and sleep)
* Saved as a separate save file from the other three game modes
* Stamina recharges much faster than before.
* You can now empty the magazine of a gun through the context menu.
* Consumables (food/drink) are no longer stackable, but have multiple uses.
* Some food and drink items can add to both hunger and thirst now.
* Certain items have sprites to show how many uses are left.
* Hover over food/drink to view how many uses left.
Game World
* Doors, windows, and all barricades now have more health.
Items
* New items: boxes of items; weigh less than the individual rounds as a whole.
* Crafted to/from box form from the context menu.
* Nails; one box is 30 nails.
* 9mm ammo; one box is 30 rounds.
* 5.5mm ammo; one box is 20 rounds.
* 12 Gauge ammo; one box is 12 rounds.
* Many guns are more accurate, most notably various rifles and carbines.
* New weapon: Fire axe; rarer, heavier and does more damage than the axe.
Interface
* Hovering over an item shows extra information on the item.
* Applies to items in inventory, in container, or on the ground.
* Displays item name, weight (as a stack, if stacked).
* For guns/magazines, displays ammo in magazine and ammo type.
* Displays uses left for melee weapons.
* For edible items, displays uses left, and hunger/thirst fulfillment.
* Added clickable dialogue boxes for use in the upcoming tutorial.
Combat
* Improved melee combat;
* Zombies now are knocked back, depending on the weight of the weapon.
* After hitting an object, the weapon is drawn back in reverse (visual only).
Construction
* Barricades have depth to draw better in windows.
Miscellaneous
* Window shatter particles are faster but slow quickly, and are more predictable.
* Strength skill increases at double rate as before.
* Loot overall is somewhat rarer.
Bugfixes
* Fixed "array out of bounds" issue with containers if the inventory is scrolled.
* Fixed bugs with bullet collisions and not being able to hit zombies near walls.
* Fixed being able to shoot zombies through solid objects, better than before.
* Fixed the new house having no lighting.
* Fixed AK74 held sprite not match the item form.
* Fixed "Cancel" button missing from options menu.