Hello! I've recently realized that I let this log go totally dead, so here, have an update. We've gotten back into working on this project, and I could give you an update as to everything done as of this February, but instead I'll tell you everything that I've neglected to tell you for the past year. First off, let's talk about characters and character design.
** Characters **
As you may already know, we've already designated a main character with the name of Herreth Jzal. However, instead of an idea floating around in blank space, we now have a pretty nice model for him accompanied with an alright walking animation that I'm way too self conscious about to show at the moment. We're trying to go for a more toony, polygonal look, which has been relatively simple to accomplish. With an angular model, however, comes the issue of developing mesh spots that are way too pointy. Herreth here has a few of those, especially around his armpits where his forearm is almost square. This, however, is nothing a little tweaking can't fix.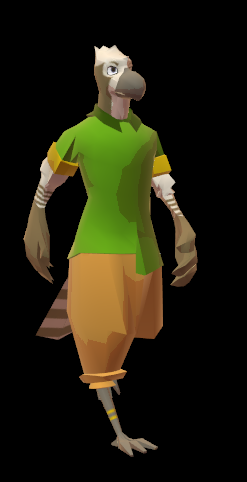 I should also tell you that the gameplay of Quill will be split among three characters, each with their own perks and faults. For those who are curious, the other two will be coming soon enough.
** Concept **
Over our absence I did a little drawing in my downtime, working on some ideas for how various areas of the game should look. At the moment I am most proud of my world map. It's freaking huge, and it's super detailed! I had a lot of fun making this one.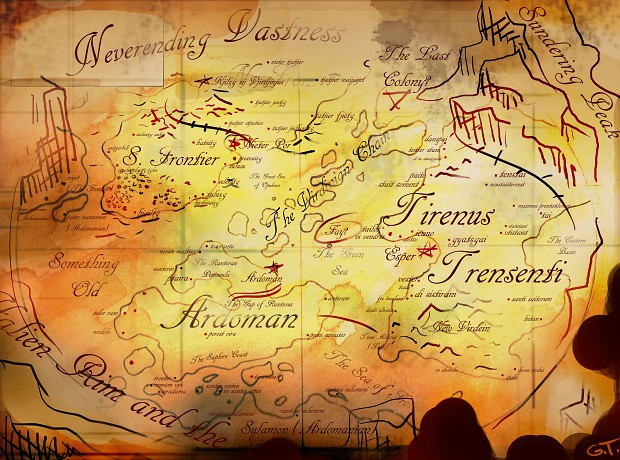 I also worked up some ideas for Fay, Ardoman, and a secret city that I have yet to name. Each of these area should have their own designated section of the game, and the cities will allow for free roaming exploration.
*No name land*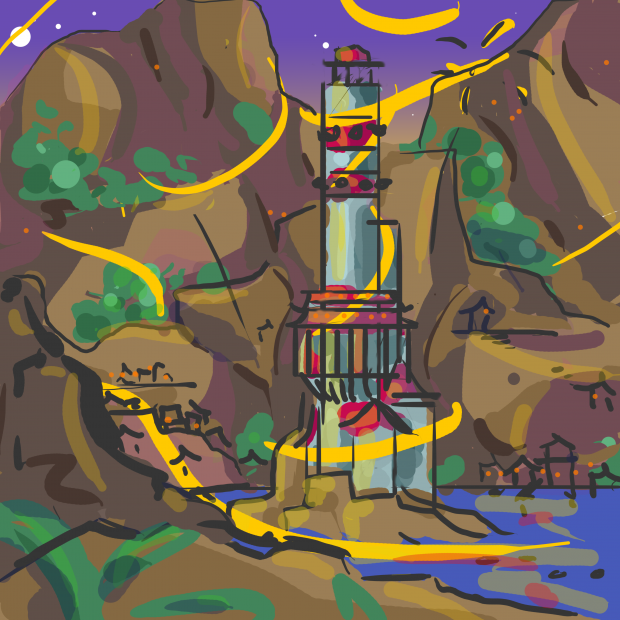 *Fay*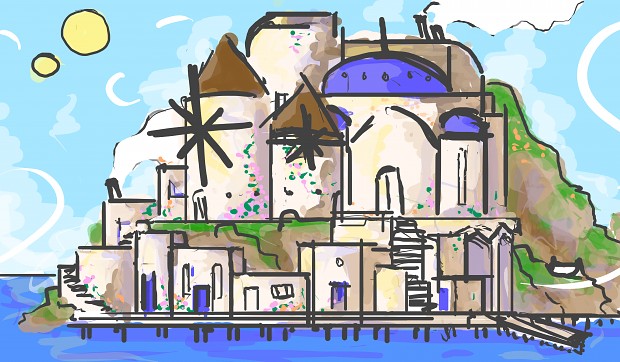 *Ardoman*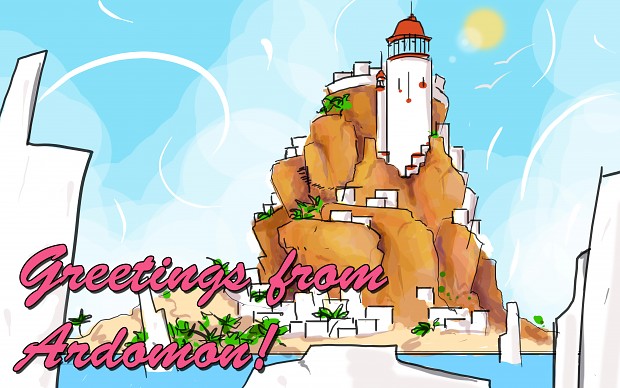 When it comes to in-game culture, each of these cities will reflect a different part of actual human society, particularly in architecture. Sound will play a big part as well. Finally, I don't know if we will do it, but I really want to develop language barriers for each areas. A lot of Quill is about being a stranger in a world that was never yours, so language issues would be a really fun concept to juggle around.
** Fay **
Currently Fay is in progress. The following pictures show a very unfinished version of the island, but its progress nonetheless. They do show off a nice shader I worked on. It really gives a nice toony lighting to everything. Oh, and please ignore the giant cylinders toward the back of the place. They are serving as placeholders for something much bigger. Also, red water because why the heck not. I'll make a water shader some time or other.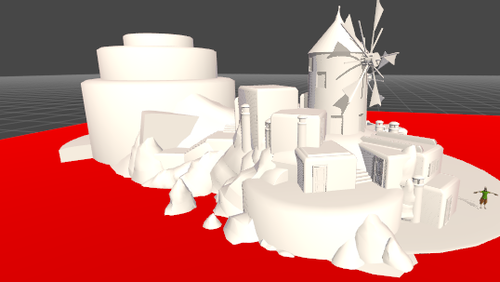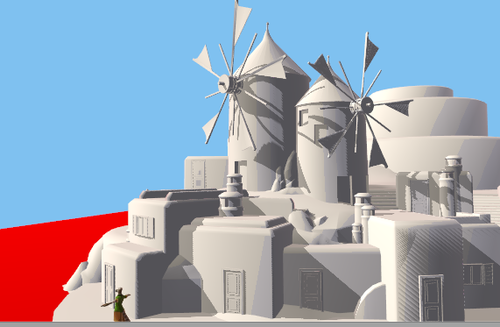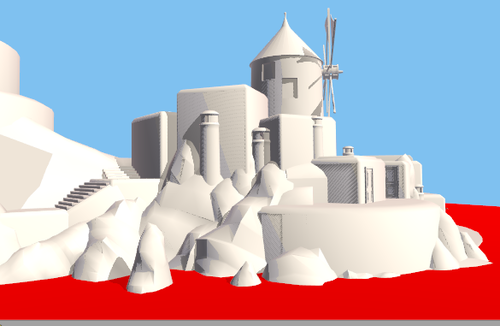 Regarding the island, I feel that the next step will be to increase variety (doors, windows, chimneys and other detail items) and add vegetation. The Greek isles don't possess a lot of natural growing foliage, however, there are a lot of climbing flowers that I think will look awesome in the town.
** Conclusion **
At the moment this isn't much, but every day we chip away at the big picture more and more. The next post should come with some new characters, as well as some more progress on Fay. Oh, and please ignore the Twitter feed on the side of this page (if its still there when you read this). It's very dead and I have completely lost the ability to access it. Instead, please visit us on our website or at our TigSource dev log. I'll provide some links at the bottom. Anyway, thank you for your patience and waiting for an entire year for that promised Wednesday update. We appreciate it greatly. In all seriousness though, thank you for your support. We'll try to be better from now on, so until the next one stay fresh! Bye for now!
Our website: Psychospectacle.weebly.com
Our devlog: Forums.tigsource.com