Holly Molly, what is this?! What's the russian faces? Here is a Genetic Tales program, stay away from displays, don't touch any buttons - you in the clinic!
Welcome again. Third update about art. Worse than this art only the next update about concept-art and schemes. But this horrible day is not coming yet. So... back to present day. Lean back on your chairs, you need to wake after ten minutes and the update is complete.
In 2014 we initiate social program (like in our game) and give this program name - GEN-TALES. This is one of the things for why I love developing of games. Opportunity fool around. I take photo of my net friend and make a sketch. When I paint, i thought that this was a joke. But result of this joke changing reality. I understand that this way exactly for me, that this way save me from accusations of plagiarism. Because first russian gamer who saw this image say that this is a russian comedian. I answer, - Nope. Is a real guy with name Michael Berezin as guesting star. Ha! Eat this. No stealing, no plagiarism.
So... Genetic Tales it's a program where we recieve from gamer photo, and in case if this photo can be implemented into the game - we take this image in research. And second funny moment. On the net resources like Kickstarter many game-developers talk you - Hey, we have a pledge, if you give us 1000$ we make from you NPC, and put in the world of our great game. All world can see You. Screw you! We made this free. Want see himself - "join the program, send your photo". This slogan we wrote on the fake advertises posters and cards.
Before we made this initiative only on the one russian and old post-nuclear net resource (Nuclear City), because we must be sure that photos which send to us by gamers - is real. Because you know how many jokers in the net, yea? Maybe you one of them. Of course if somebody send me photo of Barack Obama, probably I can't understand that this is president on United States, because I see this guy on TV. If I see Putin face... god, bless me, who can forget how looking this guy? What I want to say? I can make mistake, take non-real photo and after this owner of this face coming to me and say:
- Hey, what's going on here?! I'm a Brian Fargo, you're stealing my face!
And well working «reactivity» in this case - will be long talks about private property of any faces on the planet, about wasteland red boots and etc. I don't need it.
How it's working. I examine photo-references of my net friends, and try to find a fire, in eye's of this people. Something so that I could inflate, like a bonfire from the spark into a flame. And if I see that this guy can be implemented into the game, I take my pen, and drawing so long as I can to born the new game character.
By the way, In post-apocalyptic Boise you can find office of GEN-TALES. I think that this can be funny. Well... what I can show you to illustrate that this idea is working, that be you don't think bad about me, - what's the crazy man, what he want to say us... I prepare this sample of our genetic materials. Welcome to the center. Sit please, and wait when nurse take your med-card, be sure - it will not hurt, except a little pain (you know that doctors always lied about pain, and when doctor say you "a little bit" - be sure, you bend into the arc from pain). So... is not hurt you, just a little bit. Nurse! Handcuffs please!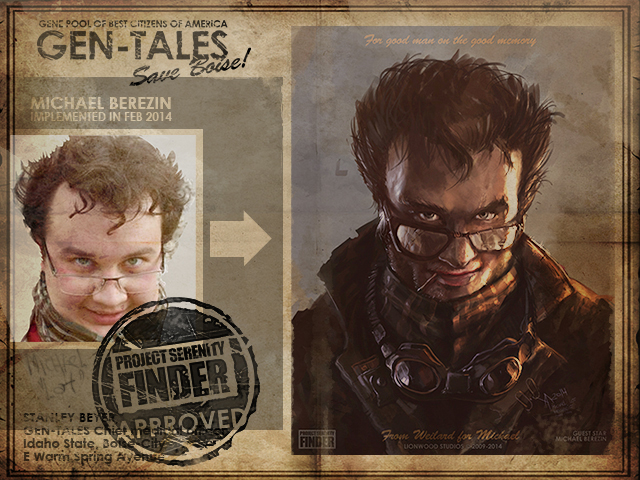 I love this guy. Not because he bought all Steam games. And not even because he gives me a loan, when I have nothing to eat (yep, I play in PSF in real-time, in real life). And because he's cool. He is have a nickname «Mishalot», from the name of Michael. My mind going deeper. And I understand that word "Lot" be good for this game character. That how born surname of Michael. Word "Lot". Michael Lot. In this words i recieve normal name and something like nickname. Why Michael have surname -Lot? Who given this name? Citizens of Dam. Because Michael mechanic (he is really love devices in real life) and because he have a really many items in his workshop. He have a LOT of any stuff. And he trade it.
When I drawing thought about my character. Every piece of what you draw - must be real. Is not necessary place on the head of game character toilet cap, or give him thousands hockey club or golf club as weapon. It's normal for lovers of "original and unique design" or for comedy games. In future updates, when I show you hand made armors - you fully understand what I mean under term of original, fresh design.
So, what we know about this guy? About real guy, i mean. He is smart, he is lover of games in Steam, he is my friend, give me cash when I'm in trouble (my constant fate), love tech devices.
In world of PSF he is cool guy, he is smart and he is love collect any items. He is like a junkman, dragged to home all that he find any. He is positive and treats you well, he can give you in debt little cash and bullets if you have no. And he wears glasses. Because he everyday work with little elements, fix the items of citizens & etc. Is a spoiler. You know that past world is died. You know that in Dead city you can find any items. Michael need a glasses. And you bring him any glasses what you find. Maybe some of this glasses be good for this man. But knowledge about glasses, diopters is dead with the world. And you don't know what type of lense he uses. That the quest. You can find many glasses. But only few can be fit for Michael.
Is your fate. Searching stuff in dead places. Bartering with survivors. You solve task - they give you food and water, in any cases supplies and ammunition. And you must know another one thing - for all other people glasses can be unnecessary trash. Somebody can buy from you stuff like this glasses and give you less one pint of water, or... just apple. And after this, maybe, you can't help Michael. You must think about it. You must remembered what you doing and for what. And you must speak with people if you want survive. You help people - people help you. Of course you can hunting and feed himself by hunt. You can trade, you can work like bodyguard or like mechainc (if you have knowledge).
So - the characters are born. Character have a face, have a story. Character is not 3D-model with name, list of objects which he need and barter script. Character is real. With real story and real problem, real needs. Of course in the demo we can meet with very limited count of people. It's a hard task for us. But you also must know that in old Boise-City lived not so many people. Dark years take away so many lives, and now territory of Idaho state is very lonely place. Each life is unique. And if you take a life, killing people, in near future you will stay alone in this world.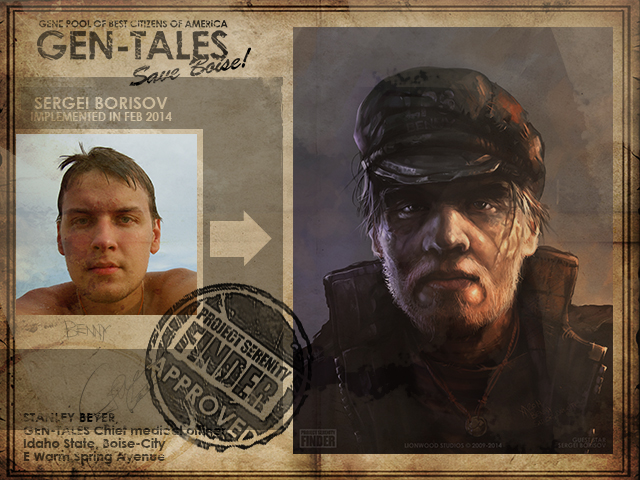 Another one sample of implementation. Benny. Why Benny? I tell you even if you laugh on me. I love tv-show like "The Walking Dead" or Sup... yeah, yeah... "Supernatural". One of my favorite characters is Benny. And of course Bobby. So ... Benny was a charming hat and he was a sailor. On the base of face of actor Sergei Borisov was born character Benny. He is not a sailor. But he clothed in clothes of sailor. Probably he find clothes on the dam. "LPS" mark on the hat, probably can be translate as "Lucky Peak Service". I can't find information about this services of Dam in the net, and even if can be possible, i must create self logo for this unreal service. Why?
Old "clerical" habit. When you work in big gamedev company you well know that each piece of content must be original and don't use someone else's property, if you do not want in future recieve a court order or subpoena.
Each character born with unique design and with memorable features. For each character I'll write ancestry. But only from you depend what you hear about this game character in the game. Because many of this people, probably don't want talk with you, for any reasons.
I can tell about characters as long as long eternity. But good speech is speech with good length. My speech always bad, because so long… hey. Wake up! End of update. I tell how I made characters, I tell you story about our social program GEN-TALES.
Dear watchers, if you want to try going to the game – send me your photos please. In two position. Front and side. Also you can attach some photos from your real life. No need dramatic poses, false smiles. Just photo from real life. The more natural you'll be, the bigger chance to implement into the game. This really helps to create a character. Aslo help information about you. If you love burgers, or love to fishing - tell us about it. Currently this initiative works only for watchers. I need to be sure that your person is real. Also, traditionally i'm offered made this for any of my russian friends from the Nuclear City.
You can see - program is working. No need to be afraid. Is not hurt. And I never publish your photos. This is private. Between you and me. This photos I was allowed to publish. Of course i'm lying. This evening, or probably tomorrow I have to explain what the hell I did it. But you can be sure - with you this never happen. Ha. Gotcha.
This is free, you no need to pay, no need to do something else except sending of your "genetic material". You can see results of my working on real, extremly real persones (if you overslept this moment - the image above).
But with some stipulation, - we not pay You for this. Your photo-references be a modified and adopted for world of PSF, and Your photo-references can be rejected without explanation of reasons. Adaptation can change Your gender, your race even your face. In world of PSF you can mutated, irradiated, mutilated. You provide for us Your photo-references on your own risk. If your photo accepted - we made art, and put on image, your name, surname as guest star. Send your photos in - gentales "dog" lionwood-studios "dot" com with subject "GEN-TALES CLIENT"
Somebody "cut the cash" on the gamers - we collaborate with gamers. Because only with your help we can finish our work. Thank you guys. You are best! Really. Even if you hate us.
With best regards,
Stanley Beyer, chief medical officer GEN-TALES
Idaho State, Boise-City, E Warm Spring Avenue