Update 1.1 is LIVE
It is here and it is FREE! The 1.1 update brings loads of new suff like new characters, powerups, levels and sound FX.
To celebrate we are giving it away for FREE for a limited time only - HERE
If you want details on the update you can check out our previous post here at Indie/modDB - HERE
So what's next?
This might be our biggest update to date but we have loads of content we want to add. We wan't to reach the 100 levels mark and we're considering adding a gallery for all the characters you unlock.
Keep in mind we are still taking your ideas for new characters and seeing which ones will make it into the game. So pitch you ideas in the comments bellow cause we mean business and so does this new guy here.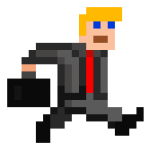 A Madoff supporter taking your coins!
You already downloaded it right? So why not add us on Twitter and Facebook so you can help us spread the word? :)
Oh, and next stop Android!!!