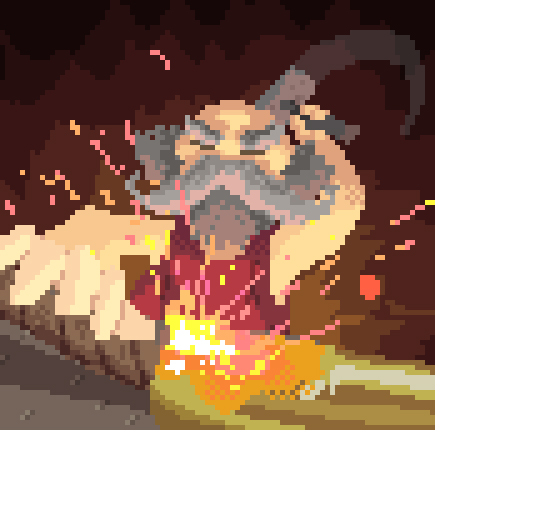 Hey there! We are very excited about the feedback we are receiving from the community, without you guys this would have never happened! *_*
We have a long "to do" list left, but we are currently focused on giving priority to the most requested features as well as correcting as many glitches as possible.
The "art and design" work area of Pixelry, (developed by André) is getting some motion improvements of the scenarios in order to make it look "alive" by adding some dynamics to the whole environment.
So in the future it looks less like this...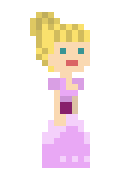 ... and more like this: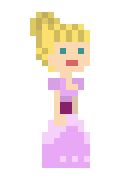 By the way she is the princess Arianna Annabelle di Grandigund Hyacinthe. She is like a mix between a Barbie and the Princess Peach, as we assume all princesses looks like.
We are basically planning to take all those statue looking guys of the background and give them a soul! It will be so much more fun to play!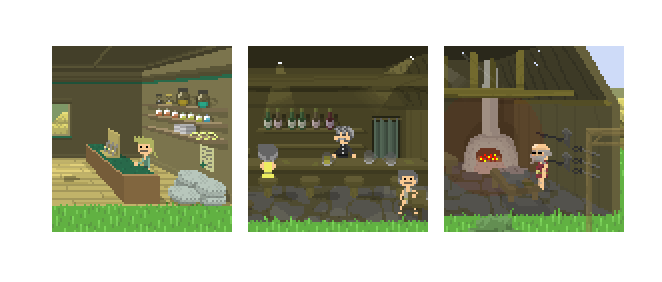 Also we want to add more cinematics, more characters, more warriors, more fight scenarios... which will require tons of new graphics. The most important will be the armours, shields, weapons and horses which will have a potential improvement with different upgrade branches depending on the properties you want to upgrade, focused on the RPG aspects of the game.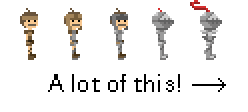 On the other hand in the pogramming work (developed by Emilio) we'll now be focused on writing from scratch the battle engine to make it work properly... The main objective is to develope a better RPG based system, adding a calendar for the actions and championships, and deeper level of complexity to the gameplay.
Right now we have some issues with the battles that require this important step, so if we want to go further with it, we had to make that hard desition.

Then we'll bring the multiplayer side of the game by first introducing duels PvP on the same keyboard, and then introducing TCP/IP for LAN battles. The goal for this multiplayer side of the game is to add a server with different rooms, a ranking and also championships where to fight and friends on-line with a customized Knight! -we get excited just thinking about it -
But, again, the "to do" list is very long and there are lots of surprises that will give depth to the game as well as many more challenges to overcome.
So, What do YOU want to see in the future of Pixelry?
As always, you can follow us too on our Web/Blog - where we talk about all our projects and, time to time, about the game developing world itself-, our Facebook page, and Twitter So please stay tuned and,Join the Pixelry!
See you soon!
-Evelend Team.