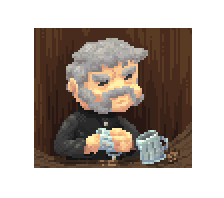 Hello everybody!
Thank you for your feedback and support after the last update, it's been very useful and inspiring.

Today we've got three missions for you!
First one, Please remember we still need you guys to report the bugs you might find in your way!
Second one, and cooler than the first one:
After you had the1.4.4 Pixelry game experience, you must be ready to help us in the process of development, so the result is not only the game we like to play, but the one YOU like.
The next step will be to decide wether implementing the use of the mouse in the whole game instead of only the editor, or leaving it as it is right now.
We've noticed after getting used to cutomize your horse and heraldry with the mouse, it might seem uncomfortable to go back to an exclusive use of the keyboard for the rest of the game.
So, as our second request, we would like you guys to be part of this decision, by giving us your opinion in regard to this matter.

You can write your arguments in the comments section, which we will consider part of a group decision process. Please, don't hesitate to share your impressions with us!
Aaaaand... the third and coolest mission for you, people of Pixellville, will be...
Participating in our next exposition!!!!
We'll show the best heraldry designs amongst the ones we receive from the knights. We will publish them in our screenshots section under, of course, the name of the artist. Your contribution is more than welcome!



Thanks again and keep on enjoying!

Remember we've started a fundraising on 8-bitfunding* to give this game a shot.
There are interesting gifts for the donors who give a hand to our pixelvillian friends from the future :D Check them out!