Ahoy sky bandits! Let me begin by giving out a big thank-you to everyone who has pre-ordered the game and supports us in our endeavour to bring you the best Indie 3D Action Platformer in this galaxy and beyond. A special tip of the hat goes out to those who spread the word about the game. We're continuously developing and promoting the game, but we're just a small team, so any help from the community is appreciated.
We took one step today to get more people to try the game and we hope that we won't anger any of you who have already pre-ordered the game: we have released the downloadable application of the Preview build. Players will still need to pre-order the game to get access to Volcano Island, but gaming sites can host the files now, people can play it locally and share it with friends. This is something that - let's face it - is already happening to some extent, but we communicated this as a perk for users who pre-order. Therefore we hope that we don't disappoint anyone with this move, but we also need to use the few tools we have for promotion to maximum effect. We figured that the main incentive to pre-order is access to Volcano Island and the other perks that come with the Captain Edition - this will not be changed.
I didn't come to apologise completely empty handed though. I brought a new screenshot from the deeps of the second dungeon, enjoy: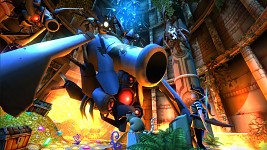 Pirates are not the only ones who are after the treasures of New Horizons. Greedy corporations invade holy alien sites on their search for gold and more of the dark matter that allows objects to float in space. The dirty work is done by their sentry bots - robots that can walk on walls and shoot at anyone who offers resistance. As if aliens weren't enough trouble...
More media of new content that is in the works is coming soon! :) If you haven't played the Preview Version yet, you can find a Windows & Mac build in our downloads section.