I must admit the summary to this article is somewhat misleading. Replace the word "treachery" with "a week of my life spent doing something I love." Unfortunately that would make it even more lengthy and out of control than it already is. Treachery is the word that exemplifies suspense and mystery, so I went with that! Enough pondering on titles and word plays, it's time to dig into some thoughts of mine on conceptual design.
It can be difficult to not fall in to certain tropes of whatever genre you are creating in. It's a fine line to strike this balance between what has been done and what is a completely new concept. At the same time, familiarity is important. As cool as a giant axe wielding space kitten with a small case of epilepsy sounds, it may be blending and mashing too many different elements which can create a sense of disconnection with the audience. Media of any type needs a balance of familiar and new. This is how I approached the initial planning stages for the worm.
My first thoughts on the ship devouring Space Worm is that it has to be massive, intimidating, and visually different. With any design project I come up against, I always start with a healthy dose of resource and reference gathering. David Lynch's cinema masterpiece, "Dune," featured large sand worms, central to the plot even, that had massive mouth flaps and an impressive amount of scale. Star Wars of course, also featured an actual space faring worm living in an asteroid. Several images on the net also gave me a good fundamental understanding of how we perceive giant worms and their place in the media, especially Wyrms from Magic: The Gathering. Whether you design for video games or movies, or anything really, audience is always an important consideration. What works and what doesn't? Research is your first step to tackling this.
After putting together a small reference library, an image for how the Space Worm would look began to materialize in my mind. In early design stages I like to do a lot of meditating. Now this sounds like I hole myself up in a sweat lodge after a dose of paoti and pray to the foxy lords of imagination for some inkling of their grandeur, but sadly no. I mainly stare at my reference library for as long as it takes for the start of the design to materialize. At this point I sketch! Or depending on how you prefer to organize your workflow, jump right into Zbrush or 3d Coat and start going to town. For me it depends on my mood. In this case, I popped right into 3d coat and started blocking out geometry.
Now this is what I call a Buick. I use this analogy through my design stages as a way of communicating that it could be better. Often times your first concept out of the gate will be a Buick or even the dreaded Pinto. Game design though is and should be a collaborative effort. We start with Buicks, but we pimp them out or bondo them until they turn into Lamborghinis. At this point I had decided to share my progress with Gabe and the team. Feedback is an essential part of the design process and leads you to creating better things in the end and I always seek it. I've heard a lot of artists complain over the years with statements like "That guy is just a programmer, he knows nothing about art!" or other things of that nature. Those statements are just plain wrong. If someone sees a flaw in your work, don't take it to heart, always listen to what they have to say. Except for those that are absolutely insane and shouldn't be allowed in a group setting (they do exist). None the less, communicating effectively with those that you work with is very important. It's the difference between a Buick and a Lamborghini in the end.
Now that the Buick was revealed, comments on further optimization and implementation of design were communicated to me. Where are the mouth flaps? Are we using bones for the animation or should we use segments? At this stage it's important to consider the in-game implementation. What is going to be resource effective? What procedure will allow quick implementation? The reason for these questions and considerations is because as you move on to modelling the game object, you need to set up the foundation for its implementation. In this case it was requested that the worm be split into 3 parts; Head, mid-section segment, and tail. So one solid worm with a bone structure wasn't going to work and my Buick lacked mouth flaps. Yet, this concept I created was a good foundation for the creation of the game model and overall design.
With reference and comments freshly on my mind, like weapons to fight the evil forces of Balthagon, I set forth to design the bits of the worm. The first step was to develop the mid section segments of the worm. I understood that these would need to be as low poly as possible. They will be the most repeated part of the worm. The head would have to contain the most polygon density and detail due to its prominence in the design and its animated elements. Polygon considerations aside, I also started rough colors on the segments. Unfortunately the colors felt very Buick to me. At these points it's always good to produce a quick sketch or colored image with variation to show what could look a lot better than what you may currently have. This time I was in the mood for Photoshop and created a quick mockup of what I felt would work much nicer. Green and black and rusty plates of metal. Crisscrossing lines of black contrasted by eerily glowing alien green. Scratches and dents in mechanical mouth flaps from eons of eating metallic objects floating around in space. This thing has been around the block. It's not just an 8th grader's experimental project on cybernetic earthworms (IE taping metal shavings to their dad's worms in the old bait box), no this had to be alien, gooey, intimidating, evil, hungry, and most importantly; badass.
A couple of days passed. My wrist ached and there was a film of hand sweat covering my Intuos Pro drawing pad. What emerged and rotated and writhed blissfully on my computer screen was a culmination of all my efforts. Not just my own though. Everyone on the team contributed in the end. I was simply the paintbrush for a collection of minds. This is essentially what a production artist is at the end of the day. We are an outlet for the creation of concepts. From Buick to Lamborghini. From sketch to final object. Don't forget this thing has rotating buzzsaws for teeth. Now that's just cool.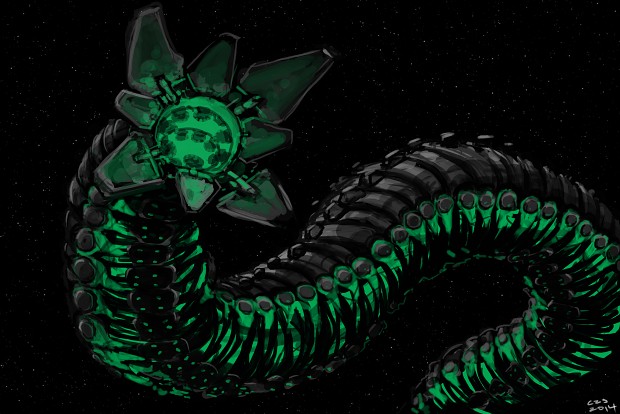 -Charles Smith