We just finished our first 30 hours of Kickstarter campaign, so first off, we would like to sincerely thank all our early backers for the love and support. You are awesome!
We have spent the day working with some feedback and adjusting our project to reach new levels of awesomeness very soon. We take feedback very seriously! ;)
Now we would like to introduce one of the most important characters in the game. Nobody can pronounce his first name...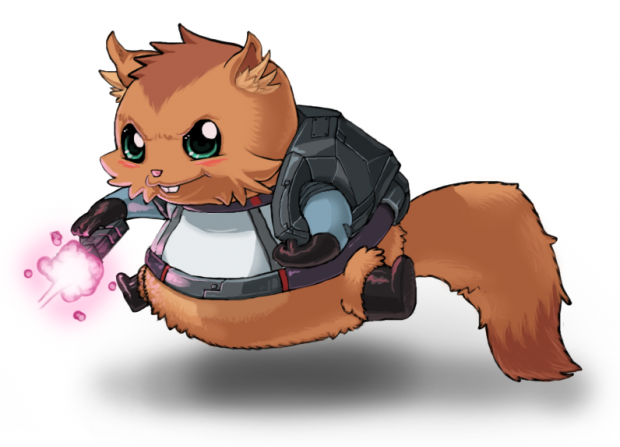 Name: Mr. Red
Race: Sciurus sapiens
Bio: Mr. Red was born on XP-8A, an experimental planet. He was a second-generation offspring of experiments conducted by genetic extremist Matthaus Kotek, a human scientist. Kotek took a freight carrier full of mammals to one of the so-called "lab-planets" in the Perseus Sector. His idea was that genetic experiments could work faster in proper environmental conditions. This hypothesis was partially correct: within a 15-year period, he managed to breed some twelve different types of humanized cross-species, including the squirrel-like species now called Sciurus sapiens. At first the Perseus Sector Council hoped to use the Sciuri's natural agility and quick reaction for short, simple tasks. But some of them also proved to be extremely talented for more complex training, such as Red, who learned to pilot ships in simulation.
Kotek's experiment was thriving until a huge underwater volcano unexpectedly erupted, destroying his lab-islands. The planet was rendered inhabitable with poisonous smoke. Only a few hundred Sciuri were lucky enough to escape—their living quarters were near the freight ship dock. Pilot Red acted swiftly in taking his kin out of the planet and contacting the nearest human colony, who took them in. Later on, he was certified by the Space Flight Academy. Grateful for human hospitality, Mr. Red agreed to join Task-Force Perseus 230—with the secret desire of finding a new planet for the Sciuri.