Hey everyone, I know it's been quite a while since you've heard from us. There were specific objectives we needed to complete and it was better to just focus entirely on them for an extended period of time. We also took a nice break for Christmas and New Years to get a breather and spend time with our families. With that, we want to thank you for being very patient and loyal to us through this quiet time. This is probably the biggest update we've given to date because we want to give you a little inside of what's going on here at Molotov. We also have a little gift for you that you can learn more about at the end.
Recently, we've lost both of our programmers due to scheduling issues. So, as far programming goes we are at a complete stop. We have been unsuccessful in finding anyone in that area but will continue to spend a heavy amount of effort to bring aboard this talent we seek. We've also had some issues with finding a second animator who can not only animate basic and complex animations but is willing to rig as well. On the art side of the team we took a loss with losing two very talented environment artists, but have recovered quite well and have several people interested in the positions.
We are always looking for people to join us, so if you have talent feel free to send us an email at freedomfighter@getrenewal.net with a resume and portfolio.
About the gift. We felt that it would be nice to give everyone a little Patriots of their own. So, we have released a Liz Freeman Wallpaper Pack. In the pack you will receive the Liz Freeman Wallpaper in these five sizes:
1920x1200
1920x1080
1600x1200
1600x900
1280x1024
Preview of the Liz Freeman Wallpaper: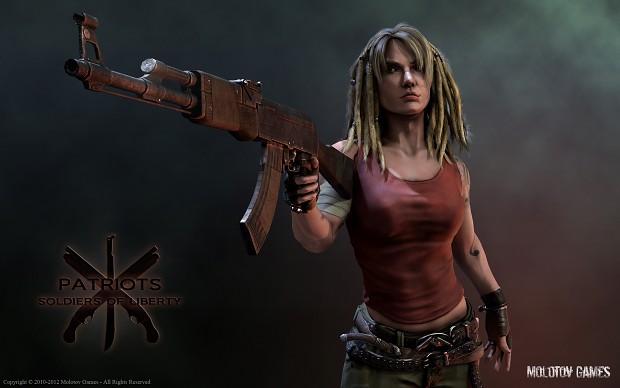 We hope you enjoy this little gift and will continue to support us faithfully like you have. As always you can find us on Facebook.com Make sure to "Like" us to receive faster up-to-date news about what we're doing and what might be coming out next!
-Molotov Team