Performance and Wuersy
As we had mentioned last Update there has been a major overhaul to the AI and animation system for Parkasaurus that is bringing us one step closer to MODS. Although this work took a bit longer than we anticipated, a benefit is performance improvements for the game. Oh, and we also added a 4th member to the Stegosauria family to even it with the other dino families at 4.
Update:
Performance Optimizations
Wuerhosaurus
IndieDB voting GOTY
Performance Optimizations
If you find performance optimization as interesting as we do – then this is what's new. First, the guests to your park had a new AI overhaul, so no more standing around figuring out where to go. This originally wasn't a problem for small parks, but many of you reported guest clumping and lag at higher guest counts. This was a very familiar problem for everyone who achieved Entrance Gate Level 3: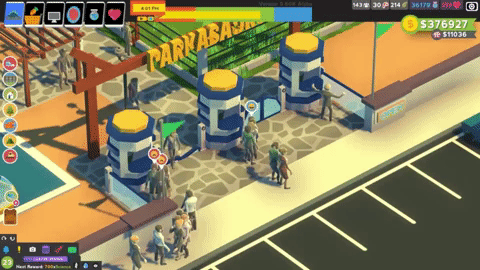 Now our guests are much smarter! Goodbye clumping! (hopefully)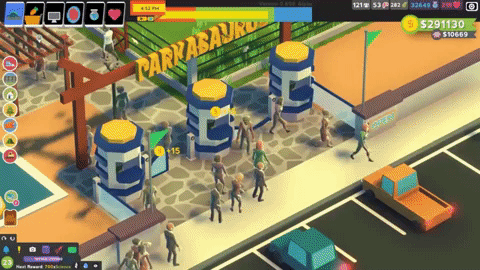 We also decided to go one step farther to change your guests to enter an animation stasis when not on the screen. This combined with a more efficient mesh navigation system should result in performance improvements for many of you. Now, these improvements, in theory, should be more noticeable for those of you who are CPU bottlenecked instead of GPU bottlenecked. Here are some results from running the older version v 0.608 of Parkasaurus versus the new version of v 0.610:
Hopefully, the game feels a little better for you.
Wuerhosaurus
What more can we say! The Stegosauria family was feeling pretty sad with only 3 members – so now everything is even (for now).
Steam Reviews & IndieDB voting GOTY
We are thrilled to be closing in on 400 Reviews on our Steam Store page! If you haven't had a chance to write a review for the game to be sure to pop on over and write one up for us. It helps a TON.
Thanks! Oh, and if you've made it this far and feel strong enough to toss Parkasaurus a vote for GOTY at IndieDB.
To all you early supporters – thanks a ton. Don't worry, we're still thinking of something awesome to give everyone who has helped us in Early Access.
Thanks. xoxo
The two of us are trying our hardest to get the Parkasaurus word out to the interwebz, and we see all of you helping out! Keep it up! Write a Steam review or trick your friend into buying a copy. Thanks. xoxo
Here are a few ways to follow us:
Disclaimer: Any crazy features we write about might change by the Early Access version