This is the first article in a series called Letter of Ovelia, intended to give you some insight into the game's lore through the eyes of different characters. In this feature we will explore one of the corporations operating in the area where the game takes place.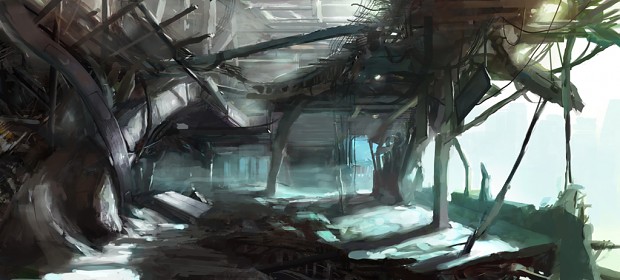 ---
Recently, I've seen a lot of questions about my role in
keeping this corporation running. I won't use the word 'distrust', because I don't want to assume anything. In return, I expect everyone to extend the same courtesy to me, and not assume anything about my motivations. I also hope certain words will see less use in your messages as well - specifically
, 'faith' and 'trust'. Do I have faith in this corporate model? Do I have trust in its leadership? I hope this message will do nothing to answer these questions, and everything to prove why they are irrelevant to our common interests.
What is a corporation? Some would probably say the answer changes with the times. After all, 200 years ago, some people viewed corporations as being about money, or at the very least that money was a prerequisite for their existence. Yet when the currencies of the world were destroyed in the Breakdown, we persevered. How? Why? Some say we adapted, some that we remained corporations in name only - and quite a few that claim we betrayed the ideals that had made the free market possible, that we acted like opportunistic despots and set society back hundreds of years, and that we have nothing in common with the corporations of th
e past. I don't need to tell you that these people are wrong, but sadly, it appears that I have to tell you why.
Corporations were never about money, or about maintaining a free market, or about the system in which they existed. What they were about, I believe,
was profit. Profit does not disappear because money does, nor does the ideal of efficiency in attaining it. And these things, profit and efficiency, are what we must consider the common goal for everyone involved in this corporation.
Which brings me to my second point. 'We', as in the corporations of the world, do not exist. 'We' are the Feng Corporation, and nothing beyond it. When
I speak of common goals and common interests, I speak only of the common interests of our leadership and employees. There are those who claim we are not playing a zero-sum game, that cooperation with other corporations could benefit us. This is reactionary propaganda of the worst kind. Resources today are severely limited, and as far as I'm concerned, we might as well play the game as if it was zero-sum. We have the military power to strike against any competition, from enemy corporations to the nomadic vultures feeding the black market, and any insistence to hold back will be considered a threat to our control of this area.
Feng is a family business. If we do not impose our ideal
s on the people here, someone else will - someone worse. The fact that our CEO has grown increasingly recluse and the rumors about his mental health will not change this fact. And in the mean
time, I request only that you remain loyal to the ideals of the Feng corporation - efficiency for our common good and the family values that have kept us running for these past centuries.
Do I have faith in this corporate model? Do I have trust in its leadership? I will leave these questions unanswered, but I will instead tell you something that I consider more relevant: I have faith in the faith the people have in this corporate model. I trust i
n their trust. Nothing more, nothing less. Any additional doubts will be forwarded to the CEO, and handled in whatever way he finds appropriate.
---
For more Letters of Ovelia, see Part 2: The Breakdowns
Remember to follow us on any of the social networks below for all Coilworks news!