Another update! Woo!
Adrian's been drawing more things. These are some more environmental concepts which are likely to form the basis for the architectural style in Orbital Assault, as well as serve as the visual appearance of the first public demo.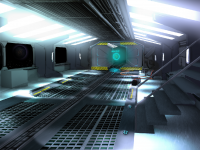 This is a hallway. It leads to the place where all the guns are kept.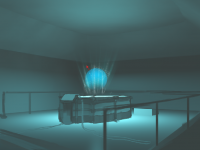 This is a room with a hologram table in it. This will likely serve as the main "hub" room of the first demo.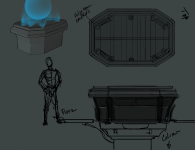 And here's a closer look at the hologram table. What's the hologram? Who knows - perhaps it's a tactical map of the planet.
I, meanwhile, have been hacking away at the multiplayer prototype. A new version of Bolt has been released, which addresses some of the bugs I've been facing (such as remote objects getting instantly deleted on the client), which we've upgraded to.
I've also added sentry turrets. These handy things will target and fire at enemy players for you. They don't deal a lot of damage, but they can be really helpful nonetheless.
The other thing I've been working on extensively is bot player AI. We're going to be using Hierarchical Task Networks for both the bot AI as well as the enemy NPCs in Survival mode. These look on the surface a lot like a Behavior Tree, but they work quite differently and can produce very smart AI with less work. I'm also working on some of our editor tools for the AI, such as analyzing the level to generate cover points and other AI hints, which in the end should allow our AI to efficiently analyze the situation and determine where they can take cover, where they can get line of sight to a target, and where they can throw grenades to flush the target into the open.
The reason I've been working hard on this is so I can do a playtest of our multiplayer demo using intelligent bots to help me get a better feel for the gameplay and how fun it is overall.