Can you fire a cannon? Try using two at the same time! Put your thumbs on a pair of rail-mounted cannons and defend yourself from strange invaders. Save the world with your dual-cannon skills!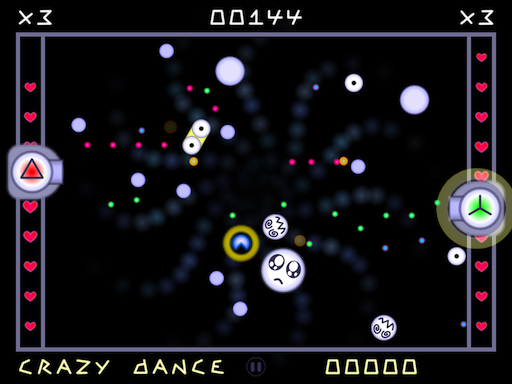 15 increasingly difficult levels, plus 3 survival modes
get more levels as free updates later
casual difficulty, plus hard core mode for a real challenge
perform trick shots and push enemies with your bullets
fight various enemies, including angry smileys and kitties with shields
multiple power-ups, which might be trying to shoot you
enemies will benefit from power-ups too, so get them fast
some enemies are immune to one of your cannon's bullets
Game Center leaderboards and achievements
includes Retina and HD graphics
catchy game music by Francesco D'Andrea
Yes! Oh Shoot! has finally been released on the App Store! For just a single buck, this fun little game can adorn your iDevice.
Now all that's left is... lots of work! Sitting back and relaxing is not an option at all. I have new levels to create, have to get used to the App Store market, must keep spreading the word about the game, and lots more.
The game now also has it's own nice web page, by the way, and I created a facebook page too. Anything to get some exposure!