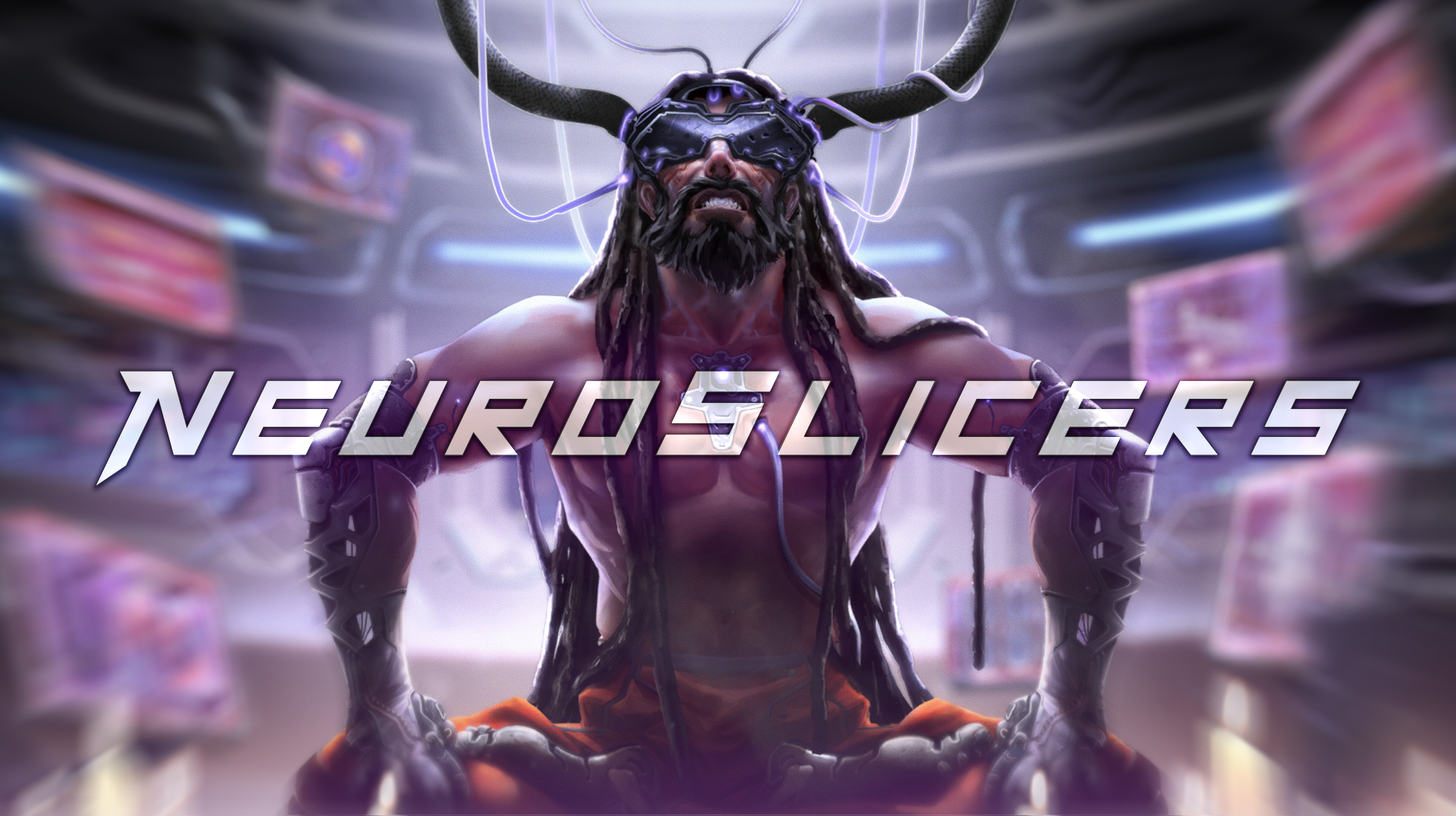 FAQ
HOW DO I GET ACCESS TO THE PRE-ALPHA?
There are two ways to get access to the pre-alpha.
The cheapest, and our preferred way is for you to join and interact with our community on our Discord server which can be joined here: Neuroslicers.game
As you interact you will earn XP and climb the ranks.
Your rank determines you place in the pre-alpha invite queue.
We will be inviting people over the 8-week period in batches based on your rank. The more you interact the faster you'll get Pre-Alpha access.
The other method to get Pre-Alpha access is via Brightlocker where you can pre-purchase the game or instant access to the Pre-Alpha when it launches on the 13th.
Check the rewards here for details: Brightlocker.com
HOW LONG IS THE PRE-ALPHA?
The Pre-Alpha is running from the Friday 13th April 2018, 6PM UTC until Monday 4th June 208, 12pm UTC and will be available only over Weekends.
WHEN WILL THE SERVERS BE AVAILABLE?
Servers will be online each weekend from 6PM UTC on the Friday's until 12PM UTC on the Monday's.
DO YOU PLAN TO DO ANY UPDATES DURING THE PRE-ALPHA?
Yes and No – for the first 3 / 4 weeks we'll be doing bug fixes while taking onboard your other feedback. On the 4th May we'll aim to get a content update in which will include the items we didn't manage to get in in time for the 13th April. Depending on your feedback / suggestions over the first 3 / 4 weeks we'll also aim to get some of your ideas in as well, however this is very much dependent on the complexity of a given task.
HOW DO I PROVIDE FEEDBACK / BUG REPORTS AND IDEAS TO THE DREAM HARVEST TEAM?
During this testing period there are a number of ways you can provide feedback / bug reports or anything else:
Discord:
Be sure to join our Discord Community if you haven't already at www.neuroslicers.game
There are dedicated channels for #feedback, #bug-reports and #ideas.
Stomt:
In game you'll notice the Stomt logo in the top right corner of the screen. Clicking on it will allow you to provide feedback and a screenshot in a "I Wish" or "I Like" format.
Twitter:
Follow us on Twitter at Twitter.com and feel free to post us any questions there.
WHAT CONTENT IS IN THE PRE-ALPHA?
The Pre-Alpha contains just a small portion of our planned content and really centres around the core gameplay experience rather than our meta systems. We want to make sure that at a basic level the game is as fun as possible before we start to add more. The Pre-Alpha contains the following:
3 Levels made up of 1v1, 2v2 and 1v1v1 [Redlight, Plaza, Skyline – All Environments are WIP and Level layouts are subject to change]
The Hub System [V0.1]
Script Library / Deck Builder [V0.1]
17 Scripts [14 Custom, 3 Starter]
Ranking System [V0.1]
Visual Unlocks [Avatars + Avatar Borders]
Matchmaking [V0.1]
Music [Hub, All Levels, Results Screen]
Basic Options Menu
Tutorials [Basic and Advanced Tutorials – Both were created just for this pre-alpha are aren't indicative of how the Tutorials will work in the final game]
Gameplay Features

Innovative 3 Resource System [Data, Tech, Territory]
Fast 5 – 10-minute matches
Advanced Waypoint / Rally system
2 Global Objectives [The Cannon [v0.1], The Transmission Tower [V0.1] – None of these Objectives are Finalized and subject to change]
Single Match Type [Destroy Enemy Data Core / Core's]
Innovative Deck Swap System

AI Powered Units [Design, Art and VFX are WIP]
Buildings [Design, Art and VFX are WIP]
Function Powers [Design, Art and VFX are WIP]
WHAT CONTENT TO YOU HAVE PLANNED FOR AFTER THE PRE-ALPHA?
Here's some of the features we have planned for after the Pre-Alpha:
Stances system that adds a deeper layer to our resource systems
The Contracts / Mission systems
Proper levels with their own sets of objectives
Our full narrative
Lots more Scripts / Abilities
The in-match upgrade system
Firmware system that changes the functionality of your Scripts and allows them to be customized
Script mastery system
Training systems to help you improve your competitive game.
Deep player progression systems
Faction Warfare systems
improvements to UI, both in game and menu's
Social Systems
Holographic E-Mote system for in match communication
Lots of unlockable visual customization elements.
Lots lots more!
EPIC PRE-ALPHA GAME GUIDE