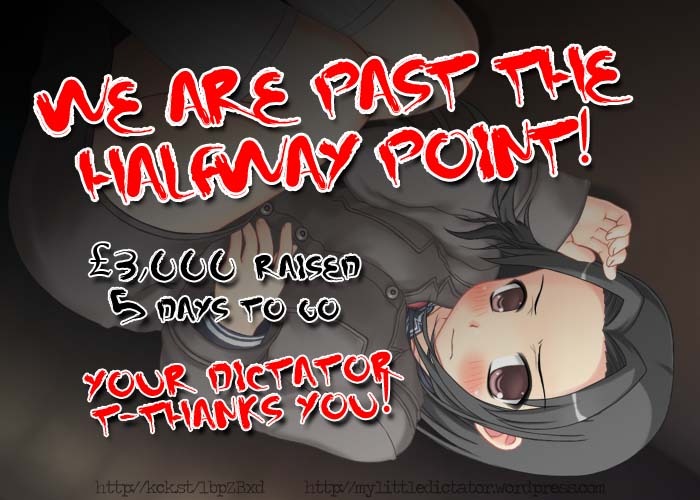 There's only 5 days to go and we've managed to raise over £3,000! Thank you so much to all you guys for backing the game! We're reaching the end of the campaign and it's time to do a big drive to get this project funded. I'll be working on more press releases, advertising the game anywhere and everywhere, and trying my best to get the project talked about. Please also spread the word where you can, and let's start on the road to dating moe dictators!
I've received a lot of feedback about the pre-alpha demo which is always an insight. I've been working on the script and slowly doing what I can, but believe me, the beta release is going to be ten times better and the final product should hopefully be an absolutely amazing game! If this project gets funded, and I budget well enough (as well as look into other forms of donation), I'm looking into getting the game voiced. I've received interest from voiceover artists as well as feedback from some of you guys, so I think it would be a pretty cool thing to have. I'm also looking into getting some translations of the game released in French and Japanese. Any more ideas or comments you guys have, I'd love to hear them!
Happy Holidays to all! Frohe Weihnachten!