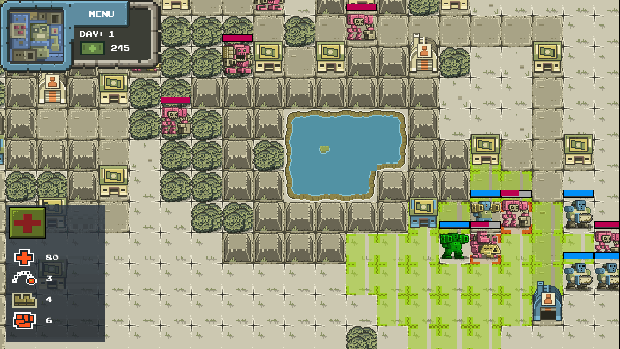 Mutant Gangland Alpha 1 has been released on January 28 and can be bought from our website. Alpha 1 contains:
A sandbox/free battle game mode
10 maps
2 factions: Mutants and Robots
8 Commanders (4 mutants, 4 robots):

Each with different stats that affect unit performance and/or income

10 units (5 for each faction)
Player vs Player (Local) or Player/AI vs AI battles
A level editor:

Load, create, edit and save maps.
Place map tiles (ground/mountains/forest/water)
Place buildings and units (neutral, player1, player2 - Houses and Factories)
Test the map from the editor

Play the game on Windows, Linux, Mac and Android.
Access to the game source code for non-commercial use. You can tweak it, mod it (add/remove content) and/or build it to run on other platforms of your choice



Here's what Thomas Noppers (artist and co-designer) has to say about the first alpha release:



Thomas wrote:


Hi. I'm Thomas. Artist and co-designer of Mutant Gangland. The fast paced TBS set amid a future gangwar between robots and mutants which is out in Alpha stage. In this post I tell you where the game comes from, where we are now, and what lies ahead.

History:

First of all this game is made by a core crew of three people who never met each other in real life. Bacioiu is from Romania, Grace from England, and I'm from The Netherlands. How did we meet? On Twitter. I'll call Bacioiu 'Zapa' from now on. Zapa loves strategy games. To be even more specific he loves Advance Wars. About a year ago he started coding and playing around with his long brooding idea of making a game like Advance Wars but with even shorter battles. Or a coffee-break TBS as he called it. Being my friend he asked me if I could make some temporary art he could use until he found a final artist. I liked the idea of the game and I offered to be that final artist myself UNDER ONE CONDITION: I got the to make up a theme and setting for the game. Being a supporter of creative freedom, Zapa said "Yes, Whatever". Great! So? Where to start? I wanted to do something with masks. And then came the robots and then the mutants and the concept was born. A futuristic wasteland where gangs of robots and mutants fight over turfs of land. We figured it would take us about a few weeks to make it. Five months later and we're are all still working behind our desks. All in different parts of the Europe We promised the world a release for January 28. Of course nobody in the world really cares for that but we feel it. It looms over our shoulder as there are but hours to go. Zapa is smoking, cursing, and coding, I myself am destroying my only hand over attack animations that I by now see even when I sleep, and Grace is chained to her headphones as she forges the final pieces of sound and music. It's hard and it's tense but on January 28 we did deliver Mutant Gangland Alpha 1 to the world.

Present:

It's our first personal release. We put it up own Itch.io along with an amazing trailer. So far we sold 60 units. I suspect most of them are Twitter friends that humour us along with some family. That's all part of the plan. Before we go really large we waited for big bugs or mistakes to arise out of the initial feedback. Some useful mails were written to us and we took a few days to adress most of those. Even add some smart interface touches. We now have that new version up for download.

Future:

From here on we are going to sit back and analyse the response. We'll mix that with our own idea with what we like to see in the game. Fierce discussions will be had because Zapa and I are two different sides of the same coin. Where he has a giant legacy of played games I have the intentional view of an oblivious newcomer. When I stare at a small corner of a painting Zapa sees all of the gallery as a whole. He is coffee, I am tea. There will be blood and when the dust clears there will stand a box for all of you to open. Mutant Gangland Alpha 2.
Release trailer: