InMomentum, the minimalistic sci-fi racing game by Digital Arrow is available on Steam.
---
We bring you the first major inMomentum patc, first in the series of extensions and fixes to the game. In this patch, we include new features and elements, renewals and extensions in single- and multiplayer modes, three new maps and bug fixes.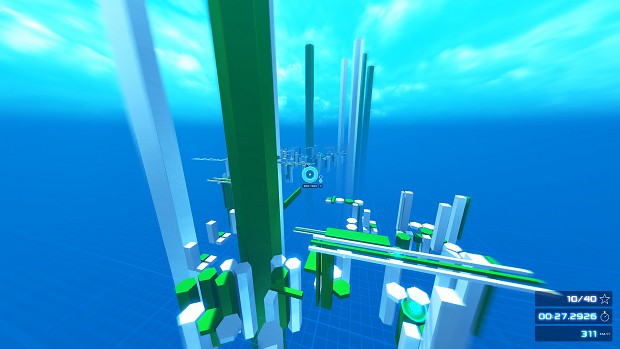 As developers, we want to develop our games constantly. With additional features and bug fixes and maps we were able to increase the quality of inMomentum again. Plans to improve the game stretch forward a fair bit, with lots of new things to come, including additions to the current game and refinements to it. We cannot wait to see where our players will take the game once we provide them with expanded creative possibilities.
inMomentumChangelog 1.04:
Added Ghost feature
Debugged and re-added Trail feature
Added Toggle Ghost interface element
Added Toggle Trail interface elements
Fixed Menu not saving the last played map, now it also saves last map played after the game was quit
Restart Map now does not restart the music track in progress
Music system now plays a new song when a new map is loaded
Music system plays all tracks from OST before re-playing any song twice
Added new map Flux
Added new map Echo
Added new map Reflex
Tutorial segments are now skippable for faster advancement
Updated multiplayer Lobby System
Updated multiplayer Level changing
Added multiplayer "Next Game Voting" feature
Fixed a bug where mouse sensitivity change would crash the game
Fixed various smaller bugs and leaks regarding the game menu and game controls
Fixed screen tearing problems in Fullscreen
Optimized Fullscreen in Widescreen play
And to wrap up this update, here's a video that shows the new maps and the Ghost in action.
---
We hope you enjoyed this update. If you would like to follow our progress, you can Watch the project or tune in with one of our community sites or our forums. Thank you for your interest and support!