Here is the latest update video:
Below is a summary of what's new in the video:
A TON of under the hood changes to make the game run more smoothly. Previously the game read and wrote everything to the database in real time which caused huge performance issues.
I re-worked almost every part of the game to store the information once on loading and saving that to the database at the end of the play session or whenever you want.
New features added
Injuries were further implemented with this update, There's fifteen different injuries that take different amounts of time to heal depending on the severity.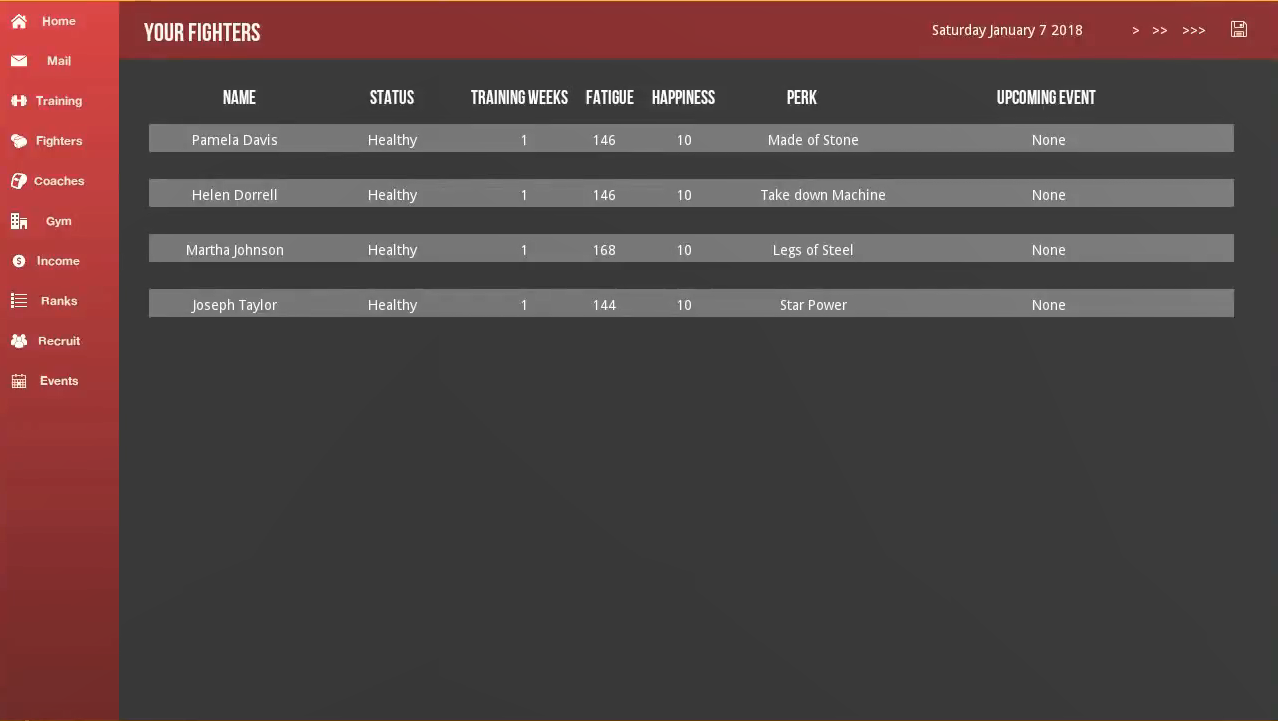 The fighter overview screen is completely new and shows you a quick run-down of the fighters in your gym.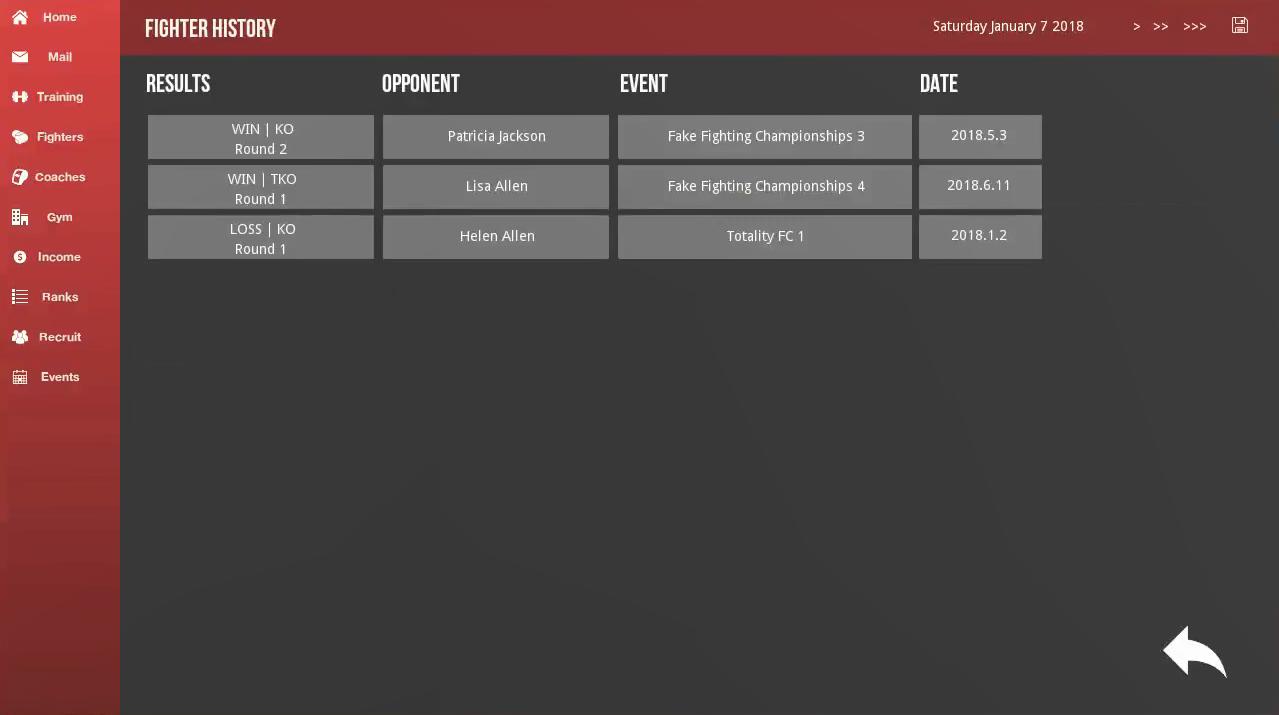 There is also a new fight history screen that shows all of the bouts a fighter has had in their career. It was inspired by current MMA event sites and how they list fighters.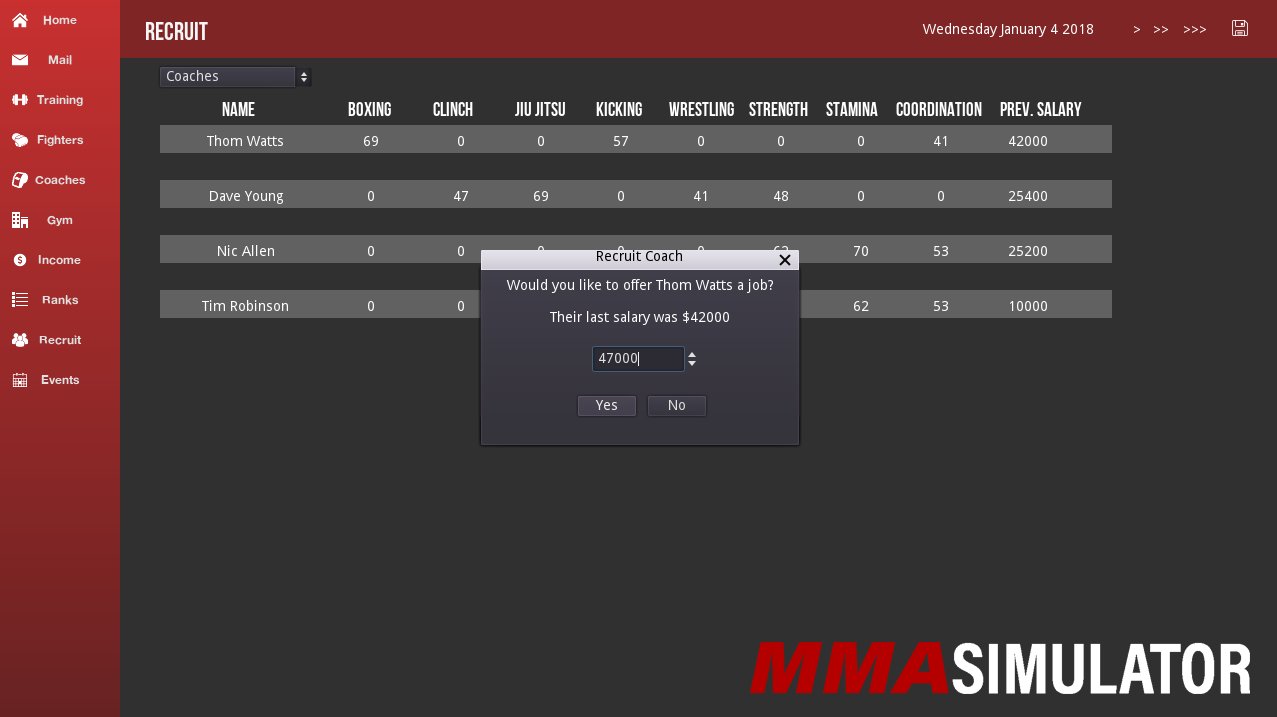 Recruiting is now in for both coaches and fighters alike! Make an offer to them based on what you think their worth and they may join your gym.
Keep in mind that the more wins a fighter has, the more money they're going to want!
The coach overview screen is new as well and allows you to not only fire coaches, but train them as well.
And probably my favorite thing I put in this time: sparring! Fighters in your gym can now light spar or hard spar - the difference being that light sparring is a great way to just see them in action. However, hard sparring offers them an added benefit of a bonus to their happiness and fight IQ if they win which can be beneficial for training. Just be careful to manage their fatigue!
Update on closed beta
Closed beta will be starting within two weeks. Invites will be sent to people who have already expressed interest in testing. If you're interested in testing though just follow me on Twitter - I'll be posting updates and there will be a brief open beta period as well.
Thanks for reading!