We are Dark Roast Entertainment, and we are working on our first game, Lucadian Chronicles.
Lucadian Chronicles is a strategy game where you form teams of 5 heroes in different configurations and pit them against other teams. Rather than going into details... have you ever played Magic the Gathering, or Pokemon? If so, have you ever spent some time sitting on your carpet creating your deck as you simulate in your head how the deck is gonna work? Well, Lucadian Chronicles is a game about that moment; thinking and imagining how it's gonna work.
We are currently focused on the Wii U version of this game. We are really trying to make the best use of all the WiiU's features. This includes the Miiverse posts, the game pad, etc... Below are two screenshots of Miiverse in action.
Now, about us. We are a two man studio, although we've gotten help and work from a lot of people. My name is Fumi Shiraishi. I'm a veteran of the game industry, and have worked on FFXI(PS2 and PC), Front Mission Online(PS2 and PC), FF Crystal Chronicles, My Life as a King(Wii), and The Grinns Tale(Kongregate). My partner is a awesome programmer, but I'll let him introduce himself at a later post.
We are located in southern california, and yes we're working out of an apartment. Here's a relatively harmless picture of our office. Yes that's a night-robe, an arcade stick, and a bunch Wii games in the background. If that doesn't give us street cred as developers, I don't know what will.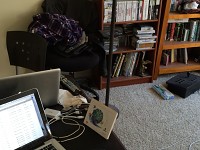 If you got any questions or comments about the game, about us, about making Unity games for Wii U, about anything... don't hesitate! Write below!