So we're finally at a point where all the features of the game are done! Now we have to go through all the checklists, prepare marketing material, debug, balance, polish, and debug some more.
Today though, I'd like to talk about our single player mode a bit, since we had some questions about that.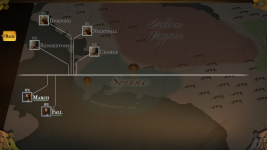 So this image above is the entry to our Campaign Mode. Each portrait in this screen is a campaign. On this screen you can see where a campaign fits in to the entire story. Also, from the map in the background, you can also see where the campaign takes place on the world map.
Depending on the campaign you'll play as different factions with different viewpoints. The game has 5 main factions, and of these the player will play 4. There are also points in the game where you will make choices that significantly change how the story turns out.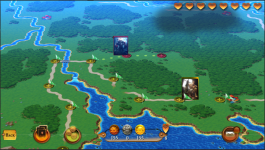 Here's a somewhat old screenshot of what the campaign map looks like. Each map has a series of nodes, and each node is a special challenge that we crafted. Some nodes have special objectives that you can beat, which will unlock more treasure or even secret nodes.
Lastly, about how you actually beat the enemy at a node. In Lucadian Chronicles you select and position up to 5 heroes and a sorcery to create your team. Some heroes are better in the back row, some in the the front row, some power up adjacent allies, etc, so how you position your heroes is very important. Heroes of opposing elements can't be placed next to each other, so you have to get creative if you want to include certain heroes in tandem. Once you have your team the battle will proceed automatically based on the battle mechanic rules. After observing and analyzing the match you can make substitutions or adjustments to your team to win or accomplish the optional objectives.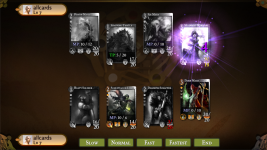 I personally find the really hard nodes fun to try. They are hard but I find that there's still a lot of different strategies to beat them, and a lot of surprises too. We're supporting the Miiverse feature here, so if you want you can tell others how you beat a node, or if you're in trouble ask others for tips.
Of course, that's not all to the game! There's still the League mode where you compete against others in your group, as well as the Draft mode, where you choose your teams and play against others in realtime. But I'll get into those in the future.
So that's all for today. If there are specific parts about the game, about game development, or anything else, feel free to ask us in the comments below. Or, if you prefer, you can also send us a tweet (https://twitter.com/DarkRoastEnt).