Just released the isometric map view module. The map have a 5 levels zoom, the ability to show colonies, travelling missions, map elements, showing ground type and height on a 512x512 world.
All actions available directly from map (attack, spy, colonize, transport, send message). Very addictive and fun!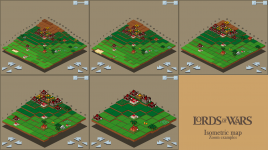 In the example you can see the maximum zoom out, some colonies, some stones and gold caves, some trees and lakes, a water surface (light blue), a beach and different levels of grassfield. You can notice also the various height levels. The single arrows on bottom left and right moves the map 1 tile. The double arrows moves the map half size, in that direction.