So since our latest article here the game has gone through the transition from Early Access to Fully Released. It's been quite the journey to work on the game and to just have been a part of the changes the game in itself has been through. Basically every aspect of the game has atleast been remade once to a point where the game is completely different from the Early Access release. However there's still a bunch of things we want to add to the game and the first one has already been, being Tech Trees
The Tech Trees in its origin are pretty simple, and is somewhat similar to tech trees from other games. However how you get the points to spend might be a bit unfamilliar, since we didn't want to give players with the upper hand even a greater advantage. This resulted in every player recieving a point every 5th minute no matter what.
So lets go through them: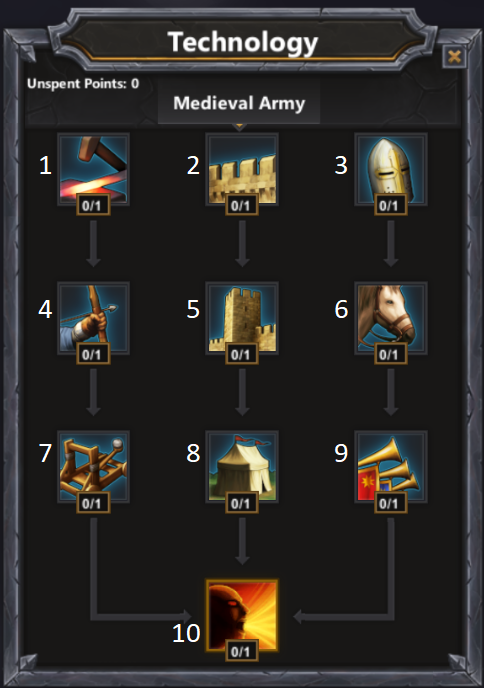 1. Forged Weapons
Increases damage by 5 for all your units.

2. Strengthened Walls
Your tower controllers will now get an extra 100 HP bonus.

3. Improved Armour
Increase the HP of Heavy Infantry by 75.

4. Longbows
Increases damage and range of your archers by 5.

5. Improved Towers
Increase the damage of Towers by 100%-

6. Breed for War
Increase the HP of Knights by 200 and damage by 10.

7. Improved Catapults
Increase the range of Catapults by 15 and their damage by 150.

8. Garrison
All friendly units within tower range will now heal 5 HP every second.

9. Professional Army
Your banner spawns will now consist of Heavy Infantry.

10. Bloodlust!
All of your units will now gain 20% of the damage they deal as HP.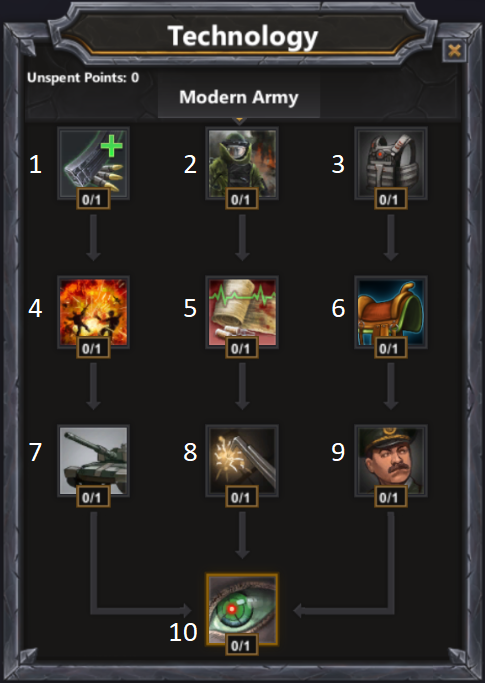 1. Improved Equipment
Increase damage by 5 for all your units.

2. Bombardment Defence
Tower controllers will have their damage reduced by 75% if the attacker is outside tower range.

3. Kevlar
Increases the HP by 50 for Infantry, Medics and Mortars.

4. Explosives
Your Mortars will now deal 75% Splash Damage.

5. Improved Medical Equipment
Medics will have their healing increased by 10.

6. Improved Cavalry Equipment
Cavalry will have their speed improved by 2 and their damage by 10.

7. Unstoppable Force
Tanks will have their HP increased by 1000 and their damage by 50.

8. Entrenchment
Your infantry can now become entrenched making them stationary but giving them an extra 20 damage, 40 HP, and 3 range.

9. Veterancy
For every five minutes your units are alive, their HP will increase by 50 and their damage by 5.

10. Last Stand!
Your units will now double their damage if under 35% HP.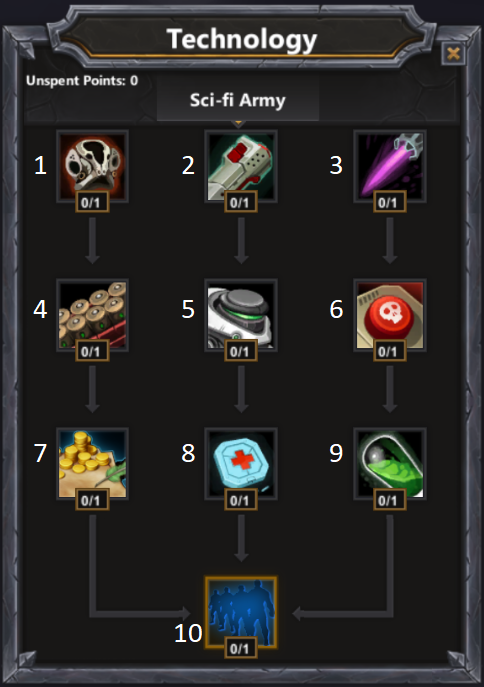 1. New Plating
Increases the HP of Heavy Droids by 100.

2. Improved Recoil
Your towers will now shoot 25% faster.

3. Laser Cut Swords
Increases the damage of Assault Droids by 10.

4. Improved Rounds
Increases the Heavy Droids damage by 2 and attack range by 2

5. Turret Deployment
Support droids can now transform into turret droids gaining an extra 15 damage and HP.

6. Self Destruction
Assault droids will now explode on death dealing 150 damage to nearby enemies.

7. Bounty Hunters
Every turn 4 bounty hunters will now spawn at the last region taken. Bounty hunters will earn 1 gold per kill passively.

8. Nanobots
All your units will now have a 1 HP per second heal.

9. Improved Chemicals
Increases the amount of units spawned in Cyborg Squad by 2.

10. Mass Production!
You will now spawn 2 droid infantry when 1 is built.


Keep in mind the techs might change a bit for balancing throughout different update.
Also if you prefer to just play without the techs no need for worry, it's posible to change the gamemode to "classic" and play without the tech trees.
Another thing we'd like to show off in this article is our multiplayer map the Middle East, it is mostly based on Iraq but regions from Syria, Kuwait, Saudi Arabia and Azerbaijan is included.
If you want to see gameplay of the map you can see it here in action from our latest tournament.
At last we want to show you some of the new armies that has joined the roster. We wanted to reward players more that actively played the game, hence why these armies will be unlock by completing the singleplayer campaign and reaching top 25 on the leaderboard.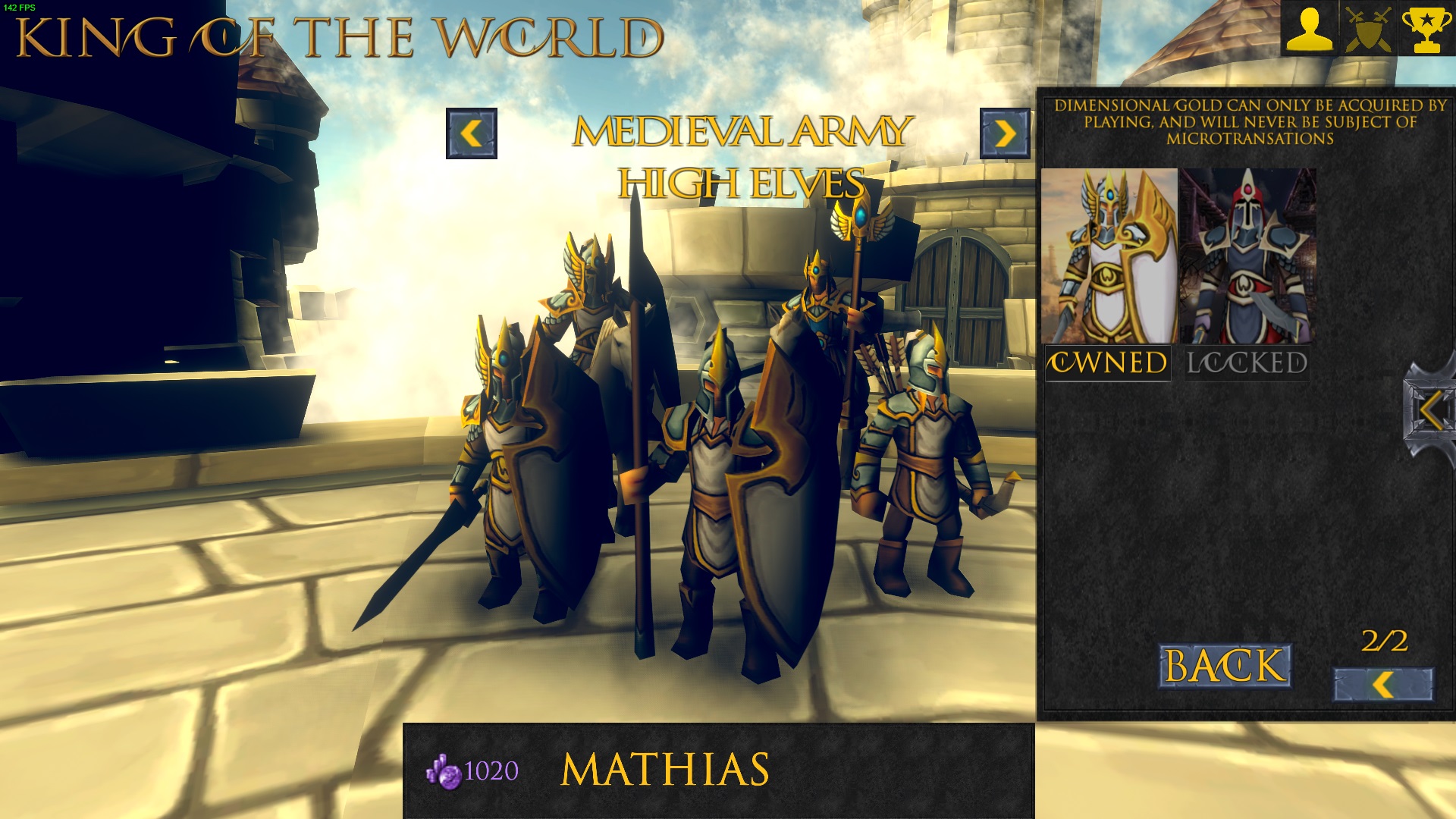 As stated above the High Elves will be unlocked by reaching top 25 on the leaderboard and hence can't be unlocked with DG (Dimensional Gold). The other army that can be unlocked by completing the campaign are the Wood Elves.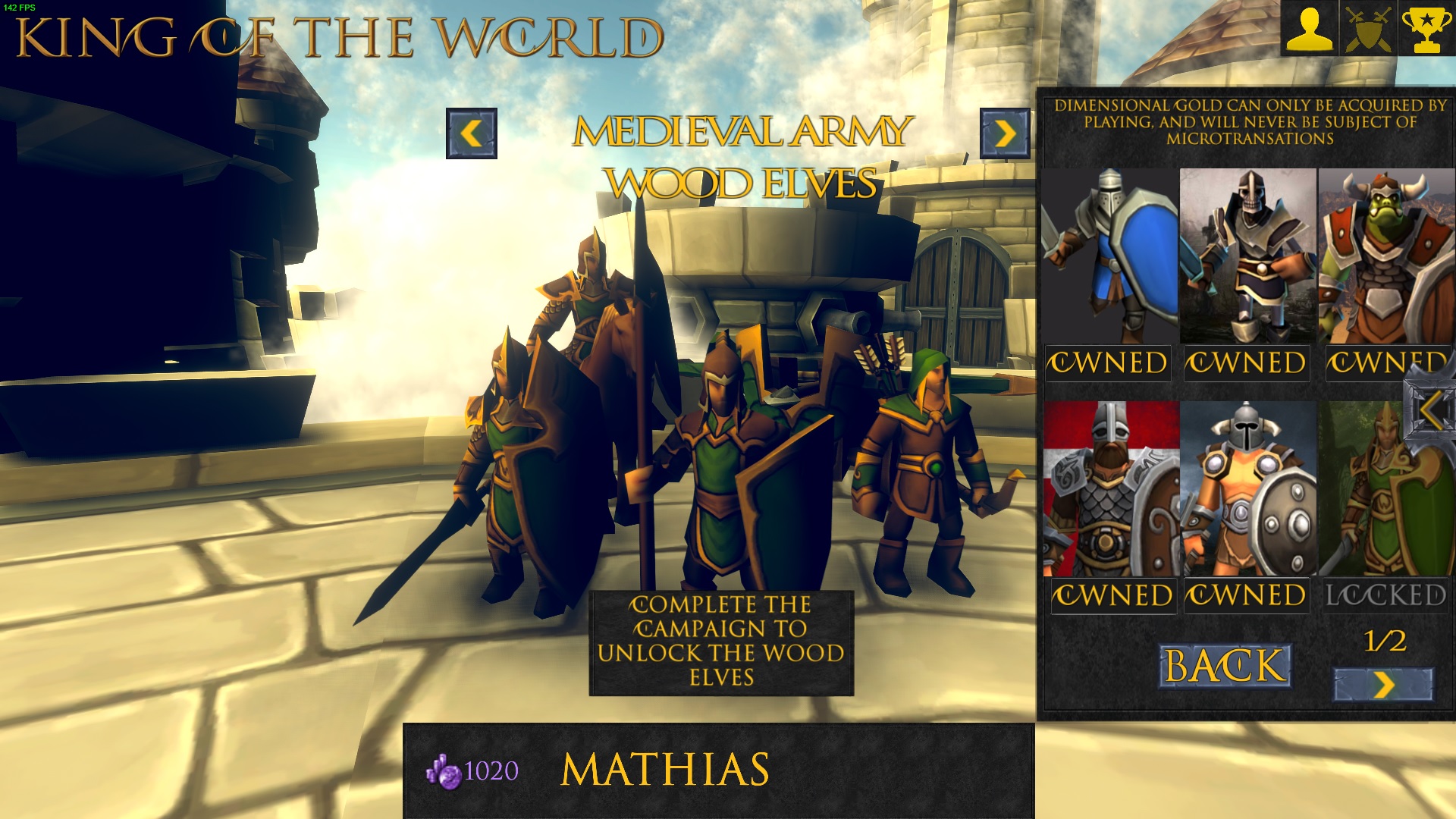 We hope once again you've enjoyed this little read and we would love to hear your thoughts and feedback.