IT IS TIME.
LADIES, GENTLEMEN, AND THE REST; dischan media is releasing its first visual novel: Juniper's Knot!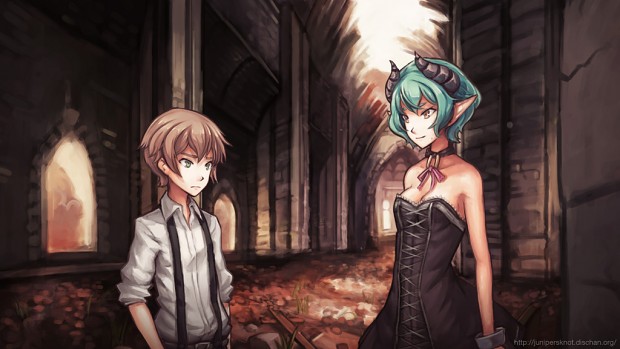 Here it is.
Also here.
Oh, and here's the soundtrack too.
Obviously, they are both free! You may give us your money if you so desire, however. People were asking if they could, and now that we actually have a product out, we feel that we may accept your contributions. You may use the "Like the game? Support us!" link on the Juniper's Knot page to do so.And sorry for the wait. We do hope you enjoy it, fellows. For those of you who haven't been following us lately: Juniper's Knot is a short, fantasy, kinetic novel (meaning there are no choices) that tells the story of a boy's encounter with a demon in an abandoned village. As it is tiny, saying any more may just ruin it for you. I'll say one other thing, though: our new programmer, Anton (Guy-kun) Prydatko, is in the process of porting the novel for iOS with his own engine. Gasp! Holy expletive! Look forward to it- I know that I am.
-Swiffeh