I have finally uploaded the latest version of Jack B. Nimble featuring new art, new GameJolt achievements with notifications, a bunch of bug fixes and a new fullscreen downloadable version!
And I am also taking this time to announce mobile versions of the game, coming soon. Check for a sneak peek below!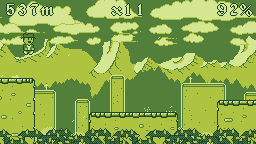 Until then, grab a version from below and start beating those scores!
The web version can be found here, with downloadable versions below...
Please note that players will need a GameJolt login to take advantage of these new features, though there is an offline option in game for those that lack said credentials or just want to play without submitting their scores.