I just realised that this new build (0.8.6.1) is the 17th update since I opened up Isomer to alphafunding last year! That's a pretty impressive number and Isomer has certainly come a long way with many new things being added along the way. At some point I might do a retrospective showing the main changes, but I'll leave that for the 1 year mark.

Update 17 has a large number of bugfixes and tweaks, but the primary focus has been on polish and snazz. What do I mean by snazz? Well, see for yourself: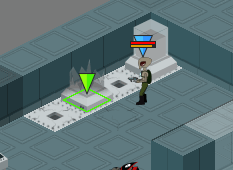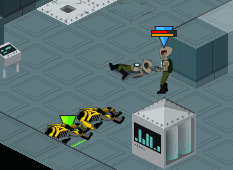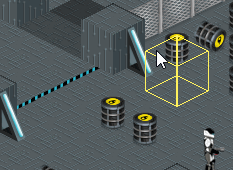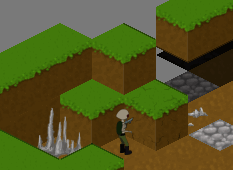 There have been lots of effects added - looting of resources from objects in the world / fallen units and mining is now more 'visual' with both the type and approximate amount of the looted resources shown. In addition to this, explosions are now more 'meaty' with particle effects and screenshake.
New blocks have been added to Isomer also! Both humans and aliens have a new alternative construction block as well as two new solid minerals blocks. Both minerals and rare minerals can be crafted into a solid (albeit expensive) block for when you positively have to show off your plunder to the inhabitants of the world you are subjugating.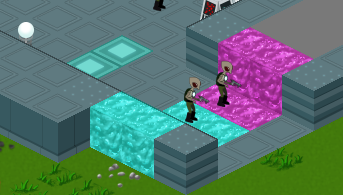 Building on the unit under fire notifications added in the previous build, now when either mini powercores or the primary core come under attack alerts will be shown on the HUD. This makes it far easier to track down and deal with human attacks.
Force fire mode (a feature requested on the forum) has been added. Holding the Ctrl button and left clicking when units are selected will cause them to fire in the direction indicated. Use this to cut down dense vegetation, ignite explosive barrels or smash through walls in enemy bases.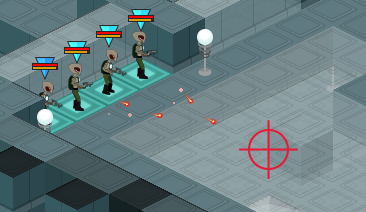 Lastly I want to talk about Greenlight! After 34ish days on Greenlight Isomer is 92% of the way to the top 100.. please keep voting for us and telling your friends, these next few weeks will be the most important!!

Here's the complete changelog:
New: Added particle engine.
New: Added resource gained particle effects to mining and looting actions.
New: Added new enemy corpse looting particle effect.
New: Added explosion particle effects.
New: Added particle effect when biomass plants are seeded or grow.
New: Added screenshake effect on explosions that is proportional to how far away the explosion is from the screen.
New: Added new enemy corpse looting dissolve particle effect.
New: Added particle effects for looting crates.
New: Added resource gained particle effects to mining and looting actions.
New: Added music and sound effects volume controls to launcher, game now has configurable music and sound effects volumes.
New: Added 'force fire' mode when holding Ctrl key.
New: Assigning units to group 0 removes them from any other groups they might be assigned to.
New: Added four new blocks. Alien and human structural, Pure Mineral and Pure Rare Mineral blocks. Three can be crafted by the player.
New: Weapon blasts now trail particles as they fly through the air.
New: Loaded games are now paused by default.
New: Mini power core and primary power cores now raise alerts in the HUD in the same way as player under fire alerts.
Improvement: Reduced the number of resources dropped by portable power cores.
Improvement: Renamed portable power core to mini power core.
Improvement: Added increased random delay to secondary explosions resulting in more satisfying explosions.
Improvement: Added unit notifications for some looting cases to make it easier for the player to work out what was happening.
Improvement: Improved biomass seeding tree animation with more frames.
Improvement: Human brick and enemy control cores now drop resources when mined.
Improvement: Destroyed player silos no longer block movement and can now be looted to recover some resources (also freeing up mini power core to be built on again).
Improvement: Increased magazine size of Heavy Lancer Rifle.
Improvement: Increased health and defense value of all alien units.
Improvement: Increased pathfinding cutoff point for player controlled entities to 1000 to better improve pathfinding over difficult terrain.
Improvement: Removed snow trees from 'half height' group.
Bugfix: Fixed no weapon being displayed when lancer sniper rifle was equipped.
Bugfix: Fixed resource trading with supply ships ignoring storage capacity of player vats.
Bugfix: Fixed group selection code to properly deselect entities from groups that new entities are added to
Bugfix: Fixed issue where the higher the view would be above the alert source the further away the arrow would be on the Y axis from the real source of the alert.
Bugfix: Fixed bug where a group of entities when given a single build target would all attempt to perform it.
Bugfix: Fixed bug preventing units from moving sometimes when in combat.
Bugfix: Corrected bug where the target defence strength would be considered twice when firing a projectile.
Bugfix: Fixed bug where looted resources from crates would not respect resource limits imposed by silo capacity.
Bugfix: Fixed bug which would show erroneously unit under fire alert for units that were visible because the view was above them.
As with before, the new build can be updated from inside the Isomer launcher supplied with the Isomer Alpha.