Greetings,
I would like to take a few moments to share with you, the wider community, our progress over the month of May and our summer targets moving forward.
To begin with, over the past month we have made significant progress on our first level, streamlining it, redoing models so they reflect a higher polygon count, and polishing on a wide scale the models we have designed over the previous months. Let's take a look below at an older model compared to a newer model.
As you can see, this is a low-polygon scene and set of models.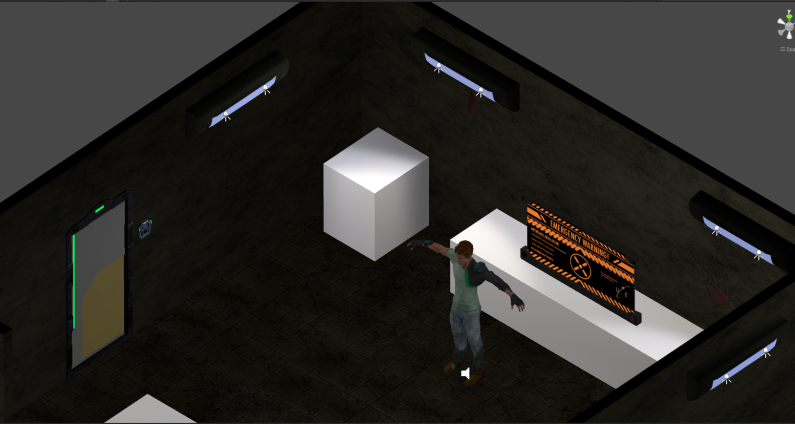 As you can see, this scene and set of models, which is a polished version, is superior and better reflects the quality in modeling that we are bringing to our polish of older work completed in the late winter and early spring months.
Because of the need to increase polygon counts on our models to better reflect the quality we are striving to bring you, the player, it has set back our timeline for the public demo release. Rest assured, though, we have an energetic team that continues to power away at creating the visual and artistic assets needed to support the quality story we are bringing to you in our sci-fi RPG, INT.
Below, you will see a WIP.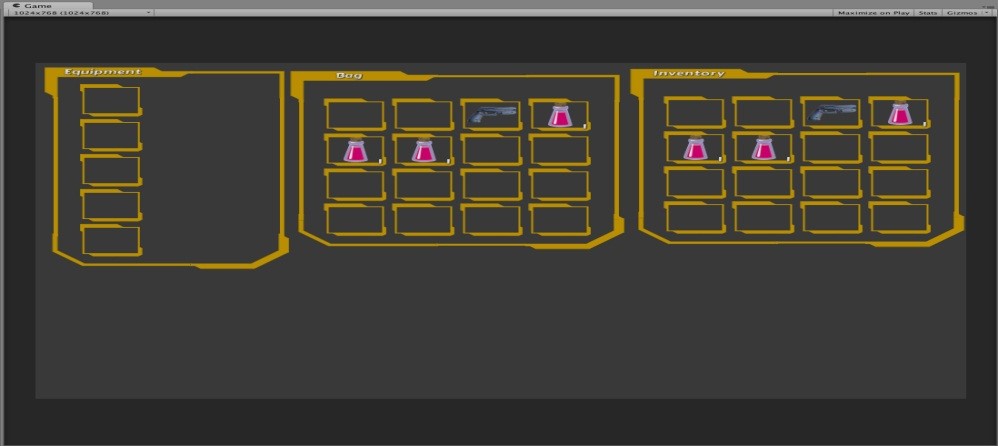 This image reflects the progress achieved by our coding department over the past month and exemplifies our GUI. We will have more to share about the inventory system and HUD features shortly, so stay tuned.
Please read more about our DEVTEAM department here:
Int-game.net
In addition to the great work that coding and art continues to accomplish, a tandem that has been streamlined into the DEVTEAM department, our writing department has been hard at work creating dialogue-strings, planetary systems and developing characters. One of our characters, Miranda, has been fully written. She will be a crew member, or companion, with you, the player, on your journey through the war-torn cityscape of Bastion. Below, I have attached an excerpt from her backstory.
A former mercenary, this character has taken to living a quiet subdued life in a low-scale Bastion neighborhood. Her life as a mercenary has given her a cynical view on humanity, viewing all humans (herself included) as nothing more than animals that have learned to exploit each other in unique ways. During her career as a mercenary she killed, maimed, tortured, and robbed, doing it with joy and without compassion. After a particularly difficult mission on Bastion, one where she was required to kidnap the child of a rich corporate executive, she began to see the error of her ways.
To read the full bio you will have to register for our forums, where additional companion lore and bios will be uploaded. But to illustrate the coordinated effort of our writers and artists, I would like to follow up this character excerpt with a WIP.
In this WIP you can see exactly what Miranda, one of your first crew members, will look like in the game. We are still waiting for our character modeler to finish her, but we have an example of a near-finished crew member below, Wes, who has been fully modeled. Check it out:
Please read more about our writing department here:
Int-game.net
Our sound department has been hard at work, too, as demonstrated below with a selection from INT's soundtrack.
This song represents the feel of the world through audio. I hope it will give you a firm grasp on the type of music we are trying to bring to INT to reflect the war-torn feel of the Interstellar Civil War, as well as the wonders of space exploration and the western element we are infusing into the game.
Please read more about our audio department here:
Int-game.net
I would also like to give a shout out to the great work from our PR and website departments. Right now, our Web Administration is hard at work redesigning the INT website and also working hard on our company website. Xain, our PR Manager, has been working vigorously to build our Social Media Accounts. Please give these two a high-five and visit the main website and the social media accounts, which will be listed at the end of the entry.
In addition to building our social media following, Xain has been hard at work preparing INT Trailer #2. I have included it below. Please check it out. In the video you can see some great examples of our models and pre-game alpha footage.
I would like to thank everyone on the team for the great work that we have accomplished thus far with INT, but I also would like to thank the community-at-large for reading and taking a chance on us. Tomorrow on June 2nd, our first fundraising campaign will begin on Patreon, a forum that allows fans to support and engage with the creators of ongoing artistic endeavors, such as INT. We are not raising funds specifically for INT. However, we are fundraising for our new gaming studio that is comprised of the aforementioned departments currently developing INT, as well as other unnamed projects: Starboard Games, LLC.
You can read more about our Patreon efforts for the time being at INT's main website. But in brief, this fundraising campaign will secure crucial software that we need and help curb legal and start-up expenses. I hope that you at least check out our Patreon Campaign and see the great rewards that we have there for our backers.
Moving forward, we will continue to develop INT until we reach a point where we can release a polished demo for the community. This summer we will be rolling out several major updates and opportunities for you, the player, and members of the community to get inside our development process. While I do not have specifics on this process yet, it is my hope that I will have more to share with you in the coming months, such as hosting livestreams, Q&As, and other events with the community. But it takes active interest in INT and its ongoing development for us to be able to offer such events on a regular basis. Even so, one of our modelers, Matt, already has completed a livestreaming event this month, and you can view a link to his livestream below. Please continue to check us out on our social media accounts and at our main website forums.
This is but a taste of the livestreams we will be rolling out over the summer. I hope that you will embark on this epic journey with us and help make INT a reality. Stay tuned, as next weekend (June 8th) I will be making another entry on revised features for INT.
Also please check out our first interview with indieGraph:
Int-game.net
Stay updated with our frequent updates to social media:
Facebook.com
Twitter.com
Reddit.com
Cheers,
Justin
Project Lead for INT