Greetings,
I would like to share our progress with you, our loyal fans, the wider community, and fellow travelers of this marvelous creation we call the internet our progress over the past month.
June has seen a flurry of activity of growth and progress at Starboard Games LLC. We've continued to fine-tune the first level, and we are nearing the finish line on Level 1. Our concept artists are starting on the second level, and the coding department is hard at work building the crucial systems that will make the game functional.
In the June 2nd update, I discussed how our current monthly objective was to finish polishing the original apartment level models (which will be seen throughout the game), as they are mostly furnishings. This task is complete. The apartment level models are polished, and we've begun implementing small items such as posters, movies, and the in-game particle system, which will showcase the destruction that's taken place at this small apartment building.
In the first screenshot, you see the player apartment before the cutscene. This is where you'll stake out your identity, gain introductory skills, and become aware of the universe at large. Once the introduction is complete, a cutscene is triggered; it shows a wave of hell being unleashed upon your home.
In the second screenshot, you see the player apartment after the cutscene. The change you see is a reflection of the Interstellar Civil War, which has arrived on your doorstep. Your building is now on fire, crumbling, and in ruins. Your only recourse is to escape the building and more importantly, the planet before society completely collapses.
I'd also like to take a moment to compare a June 2nd Screenshot of the player apartment to a July 2nd Screenshot of the same room.
July 2nd Screenshot (same room)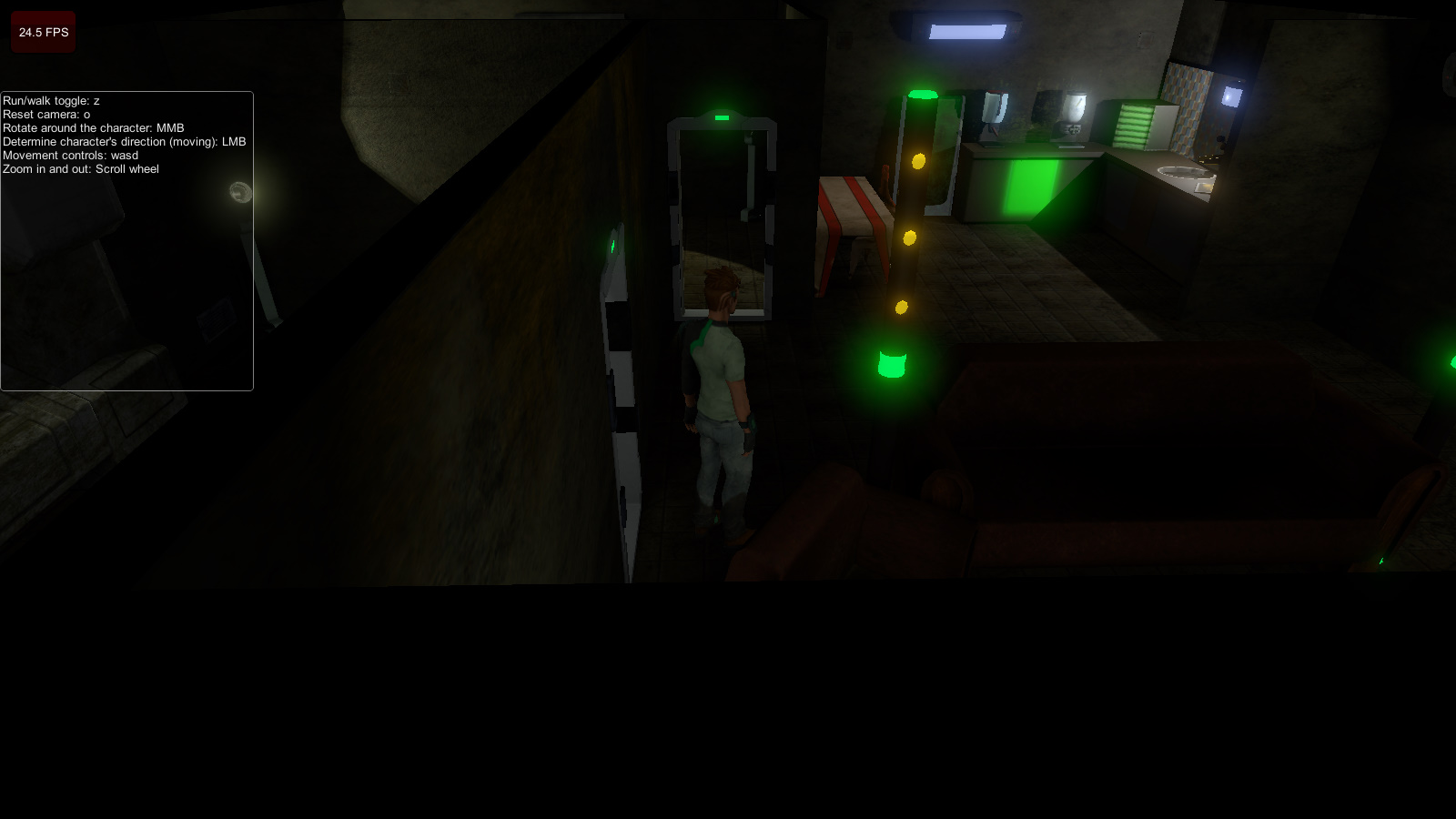 As you can see, we've filled in these rooms with superior models that better reflect the quality of modeling that I discussed on June 2nd. I am confident now am happy to report that our mission has been a success. Our energetic team has powered away at the models needed for Level One, and I'm happy to report that we have achieved success. Check out the sampling below.
These are just a few of the models we've implemented in our alpha build, but you can clearly see a marked improvement on these models over the work we were putting out in the spring. We continue to improve models as we see fit, and work as hard as humanly possible to bring our fans, the best game possible. The Art team led by Monte and his staff: Matt, Kevin, Lachlan, Victor, Nathan, Adam, and Kong continues to work on new material which I will share with you next month.
---
As I discussed in the introduction, we have also been hard at work in building the necessary features to the game that will make it functional. Since June 2nd we have rapidly expanded our coding and developer teams and we are making substantial progress. Below are some of their accomplishments from the month of June.
The Inventory structure, which has been under development for months by our coding lead, Mark Pollard, is now nearly finished. Mark and Nathan have worked on the GUI for the inventory. The system will allow for stacking, equipping items, moving items, and destroying them.
Our dialogue system will allow you to interact with NPC's, Companions, and other entities of the INT universe. Our system allows you to pull from several pre-written prompts provided by our writing team and implemented by our coding team. These prompts will sometimes give you law and order points or rogue points, but they could also give you factional points from the two major combatants of the Interstellar Civil War: ACP and UCE points. These points will work in tangent with our factional-moral-alignment system. INT features a sandbox leveling system. Our intention is to allow you to customize your player as you see fit. You can become anything in INT: a space pirate, humble medic, or anything in between. We have dozens upon dozens of skills that will allow you to build your character. Some skills are combat oriented, others give you increased charisma or intimidation, and many are necessary for healing and passive regeneration.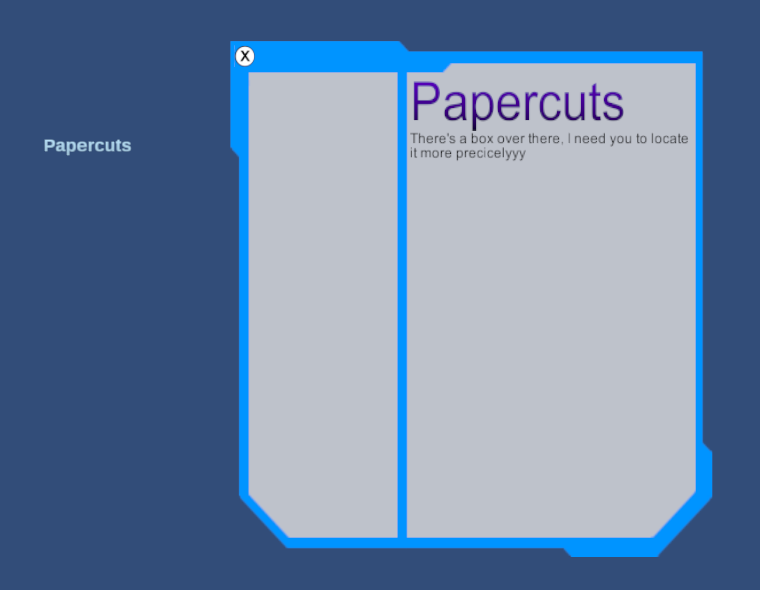 The Quest journal is where you will find current main quests and secondary quests. The journal will be accessible by a button on the main HUD.
The Health and Battery System has been in active development for weeks and is in a working state. This system will allow you to take damage and use energy in combat. This is a first step towards our combat system, which we'll showcase later this fall.
For the past month, our coding team: Mark, Marius, Rock, Patrik, and Jeremy have been working on developing the necessary features and GUI artwork in tangent with one of our concept artists: Nathan. Above you can see some of the progress made up to this point on the following systems: Inventory, Dialogue, Skills, and the Quest Journal. These systems make up a hefty portion of the necessary systems for INT. In the coming months, we will talk more about other in-game systems: most notably, combat.
---
In addition to coding, our writing team has been hard at work providing dialogue, flavor text, and companion lore to the game. BC, our writing lead, has been pushing his team hard, and I'm happy to report major progress with flavor text, dialogue, and companion lore.
Stephen, a writer on the writing team, wrote the following flavor text for movie posters.
1. Cruel Cupcake Killers
a. B-list horror movie
b. "These cupcakes…eat YOU!"
c. Poster: 3 sentient pink-frosted cupcakes, still in yellow wrappers, with faces in the frosting jump
toward the camera, mouths open ready to bite, against an urban background.
This text was taken by an artist on our team named Jason who has developed it into a B-List horror movie poster which will be featured in the game. Check out the poster.
---
Let's look at a piece of companion lore for Wes, who was features in the June 2nd Update as an untextured model. Below you will see a sampling of text about Wes. Following the excerpt, you will see a textured version of Wes: now ready to be implemented into the alpha build.
"Born to a low class family on the slums of Earth, Wes was adopted into a life of crime. Working for the largest crime family on Earth, the Barbarosas, Wes earned a reputation as a grade A enforcer and conman. By the age of 18, Wes was a major player in the Barbarosa cartel and privy to all of their operations. After a major crackdown on the cartel, Wes was forced off Earth, and left to wander UCE territory on his own. His journeys took him to a large pirate operation, where he began to truly hone his skills. However, once again, fate struck yet again, as Wes' ship was destroyed by a UCE cruiser. Taken prisoner by a UCE recover team, Wes was sentenced to ten years in a medium security prison on the planet Taros." –BC
---
Our writing department has been hard at work over the past month building characters, dialogue, and flavor text. These written descriptions are then passed to other portions of the team for implementation. We also held a lore panel in June. Check out this lore panel so you can gain insight into our universe.
Lore Panel Video:

---
Our Sound Department has been learning Unity implementation for sounds, and while we've had some minor turn overs in staff, our new Sound Lead, Matthew Calvert, has provided a demo track for INT. Check it out below.

---
In addition to these achievements, we have also established a side team to work on comics, graphic novels, and additional material for the INT universe. This team, led by Brian, has been working vigilantly on new material which we will announce soon.
The core sections of the team have been hard at work building INT, our flagship game and the centerpiece of Starboard Games LLC's game development studio. However, we have been focusing in other areas over the last month as well and launched several crucial campaigns.
At the beginning of June we launched a Patreon page, where you can help fund the development of INT and other unannounced titles within the INT universe and beyond. On this page, you'll see our exclusive backer rewards and information. Please check it out and let us know what you think! Give a shout out to our PR representative Xain for his excellent re-design of the Patreon page as well.
Starboard Games Patreon Page: Patreon.com
Just a week ago we launched a Steam concept page. This page is our first step towards launching INT on Greenlight. We fully plan on having INT as a game on the Steam distribution platform. As we get closer to our demo launch we will move to transition our steam concept over to Greenlight. Check out the page below.
If you like the work we are doing and are as excited about INT as we are then please come over to our community board, register, and sound off about what you want in the game. Check our website out below.
Website: Int-game.net
Forums: Forums.int-game.net
On behalf of the INT team, I want to thank all of you for taking the time to read this. We are hard at work to bring you an excellent Sci-fi RPG in a universe created from scratch. We want your input and feedback as we make this game. So please check us out and let us know what you think.
Thanks again,
---
Facebook.com
Twitter.com
Reddit.com
Indiedb.com
Patreon.com
INT's Steam concept page