Greetings,
I would like to share our progress with you, the wider community, and fellow indie game enthusiasts our progress over the past month of July. Like the previous month's report, I will share an update provided by each department.
During the month of July, the project has made steady progress as we continue to build the core game for release to the public. For the past two months, I have discussed how our summer objective was to polish existing game models. Our modelers have completed this task and continue to develop models for the game from concept art sheets, which will be placed throughout the world. This update for July will be to showcase some of the build in greater detail, and also provide a firsthand look at a video for our inventory system, in addition to other announcements and progress reports.
DEVTEAM
Since the July 2nd Update we have made heavy strides in finishing the first level, tentatively titled, the apartment level. Monte's DEVTEAM has been hard at work perfecting this level and they've recently begun transitioning to the second level. Here's some of the work from our alpha apartment building.
The first screenshot depicts the player apartment after the cutscene. This cutscene will be a transition to the apartment building in which you start the game. Before the cutscene, your player avatar is in the room and reminiscing about their past. After the cutscene, however, they are thrown on an adventure that culminates in the theft of a starship from Dawnsport.
This screenshot from our alpha apartment building shows the player standing in their apartment, watching as their bed and clothing burns. Rubble has collapsed through the wall, destroyed their holographic table, and caused the light fixture to malfunction. Other parts of the apartment building showcase similar particle effects, in addition to non-damaged interiors.
You may remember the "Cruel Cupcake Killers!" from our previous monthly update, and this poster has now been added into the game, it's just one of many fictional movie posters you will see throughout your travels!
In this screenshot, the player stands in an unoccupied apartment that has not been damaged by the explosion which previously rocked the apartment building. This apartment showcases the pre-war filth and squalor of the seedy apartment building that you start the game in. Unlike the previous bedroom which is on fire and damaged, this room is un-damaged, but filthy, as evident from the discarded holographic journals and dirty cabinets.
In this screenshot, the player arrives at a locked door that was sealed due to the apartment level explosions. Holographic warning labels flash at the player as they approach the door.
The player has arrived at an occupied apartment. Here the player will confront a group of vapor addicts and one of the first combat encounters of the game will take place. These addicts live here, as evident from the stained mattresses and rusty couch.
This is one of the final areas in the apartment building. It is the elevator door and console that controls the elevator. Once your player reaches this door and enters it, they exit to the street level. The street level serves as your primary introduction to our combat and leveling system. Exit through the door only when you are ready to be thrown headfirst into battle!
DEVTEAM has been hard at work over the past month. We have made progress at finishing art assets for the apartment building, and I hope that next month I will be able to show you some of the beginnings to the street level and tell more about your first companion Wes.
In addition to art, Mark's coding department has been working to deliver upon the systems proposed and finalized for INT's demo development. This month we would like to give you, our loyal fans, and an exclusive firsthand look at the inventory system. This look will be a short video that you can watch below.
In addition to the inventory video, I am also happy to report that we have made progress with implementing the UI, faction-alignment system, character equip menu, achievements, quest journal and quest objectives. We will have more to share about these systems and more videos showcasing these systems in the coming months, please stay tuned for additional videos in the near future.
Writing
Our writing department led by Blind Caesar and his staff have been working hard to provide an excellent story, narrative, and engaging dialogue for you. This month I would like to share with you some information about the corporations of INT and the corporate logo for Zeus Industries.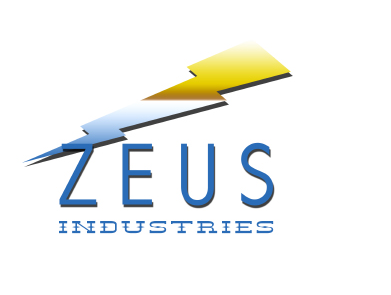 "Zeus Industries represents one of the primary providers of the Interstellar Drives and capital ships to the UCE. Single-handedly holding upwards of a third of Jupiter's shipyards, they also hold one of the largest positions of power in the UCE's politics. Their current CEO saw action as a first officer on one of Zeus' capital ships during the first colonial revolt, and his military background has heavily suffused the Corporation. The majority of their capital investments lie in similar shipyards throughout the Core, with a few outlying yards in the colony that have been lost in the early days of the current ACP rebellion." -Dek
Each corporation in the UCE has a logo that has been developed by our Concept Artists and matched to a corporate description provided by our writing staff. In addition to this work, we have also made progress with dialogues, short stories, and other lore pieces.
From the writing team:
This month, writing has been hard at work continually building up the lore of the INT-verse as well as working on dialogues for the demo. At the time of writing we have completely finished the apartment level and are working on designing the street and ensuring that the companions you will find during the rest of the demo are both interesting and diverse.
With that, I will leave you with a sneak peak of just a few of the background choices that will be available to the player in the first minutes of the game upon eyeing a pair of broken shackles in the player apartment.
UCE Alignment: "(You suddenly recall your time in the United Colonies of Earth military police. You were recently discharged for letting a convict slip out of your fingers. After your discharge, you were forced into the slum in the city of Aurora.)"
ACP Alignment: "(For the past couple of years you have worked with the revolutionary groups on the planet Bastion before being captured by the U.C.E. soldiers. You've recently escaped prison and made your way into the slum in the city of Aurora.)"
Criminal Alignment: "(For most of your life you've been in and out of prison for your association with the criminal underworld. Your most recent stint in prison ended abruptly when you and a fellow inmate broke out. Your fellow inmate set you up in a slum in the city of Aurora –near one of his cousins who also has strong cartel ties.)"
Neutral Alignment: "(You were recently released from a minimum security prison for a variety of white collar crimes. After your stint in prison, you've decided to turn over a new leaf and currently work and live in the city of Aurora.)"
PR: Trailer
I would like to take some time now to announce that we are close to finishing a story-based trailer that will tell you the story of Bastion and showcase the entire demo in terms of what to expect. This trailer is close to completion and both our sound and concept art staff is hard at work on finishing it. While I want to leave the story and sounds of the trailer as a surprise for you, I would like to showcase one piece of art for it.
The piece of art above shows the cityscape of Aurora on the desert world of Bastion. We see the setting sun, ruined city, and low-orbit battle that rages overhead. This piece of art is an example of the quality that we intend to showcase to you in the coming weeks for the story-based trailer. I hope you enjoy this sample and stay tuned to our next update which will most assuredly feature the finished trailer.
Announcements: PDF versions of INT-verse stories and the comic
We are also pleased to announce that in the coming weeks we will start to deliver short-stories in PDF format from the INT-verse. These short-stories represent the quality of story-telling at Starboard Games LLC intend to deliver upon in our public demo. You can access these short-stories from indiedb downloads and also from our website.
Additionally, Brian has become our Creative Director at Starboard Games LLC. Please read the following announcement from Creative Development regarding the comic.
Comic
In the coming months we will make a formal announcement regarding the release date for the comic. However, for now I would like to share with you a biography from a comic character and a sketch of that character. We plan to release this comic in the next few months for free to the public and again it can be accessed through downloads on indiedb, our website, and other websites.
Twiggy is a vapor addict. She is thin, has dark hair and is of average height. Most often she is seen wearing tight black pants, a dark poncho, boots, and a head scarf. She also carries a small satchel with her at all times, which includes her vapor pen, stash box, a wallet that rarely has money in it, and a small stuffed bear that is missing its left leg, the last connection to the Haelen orphanage from which she ran away at the age of 12. Twiggy wears metal rings on the fingers of both hands, a last line of defense on which she has relied on numerous occasions. She also carries a metal key ring in the shape of a cat-outline with pointed ears, that when slipped onto her hand, becomes as effective as a short, double-bladed knife at close range. Although she doesn't carry a sidearm, she has been known to carry other sharp weapons from time to time, which her poncho obscures.
Website
Website upgrade progress is coming along smoothly. With this redesign, we are aiming to integrate the look and feel of both the main blog are and our message board. We are also in the planning stages of implementing a system to deliver digital content when purchased. To give you an idea of how it will look, here is a preview of the forums with a WIP style.
In closing, I hope we have caught your interest so far in this update. As always, we will have another monthly update on September 2nd. However, if you are excited about the game and progress we have made thus far, I would encourage you to check us out on social media and our website. We have weekly updates that we only post to our 'news-updates' section of the forums. Again, I hope you enjoyed this update and please check us out. Finally, I would like to end this with a sneak peak of a piece of concept art for a ARS Advanced Pistol.
Thanks again,
Justin
INT Project Lead
---
Facebook.com
Twitter.com
Reddit.com
Indiedb.com
Patreon.com
INT's Steam concept page