Ellpys is not really a nice guy. They attack your own creatures just as often as they attack your enemies! However, they are able to reproduce fairly quickly and are therefore effective when attacking in large numbers. Adding red nutrients to a Dot egg will produce an Ellyps egg. They prey on Dots their evolutionary predecessor and also on Oozies. They will also scavenge any animal carcasses that they come across.
They are relentless in their hunt and can quickly cut down your Dot and Oozie population if there are too many in the forest. In the screen below you can see one standing over the carcass of an Oozie it just devoured and eyeing the small army of Dots scurrying around.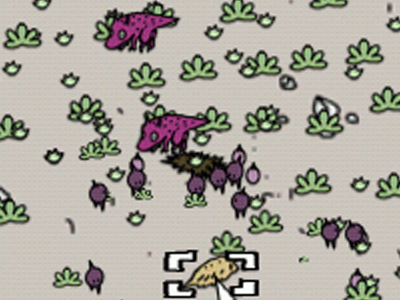 RUN DOTS!!! RUN!!!!!