Here it is, the news of the news, the next version takes a big step forward.
I certainly didn't work on IFSCL all the time from the last release, but still, there is something that truly shines out, apart from Carthage !
---
Some Facts
-IFSCL will look like much more professional
-I will definetly be able to implement the marabounta
-This will give...equality between users
-I've spend more than 295 dollars for this improvement (plugins..)
So the big super news is :
IFSCL can now run way faster than previous versions
-well, you still need a decent computer with good specs, but there's really a HUGE difference in terms of how much animations, graphs and windows can be shown with a really FLUID balance-
Technical Part :
I've optimized and moved ifscl on a new engine, UNITY.
The IFSCL will keep it's name by the way (the f meaning flash technologies), the game has never been running on flash player it was previously adobe air.. And still :
90 % of the game is still made on adobe flash pro
Also, I've been able to recode preferences saving system that wasn't working with the new version. On the other hand, new version available message isn't there anymore, can't connect directly with the servers right now. Maybe this will be back with a next version.
There's also a few downsides, macOS not supported anymore without bootcamp, and the file taking 60MO more, but since most of your are downloading movies that are up to a few GO, I think you can handle that. (and you don't download a new version any month, since I've taken so much time since last version...)
Other notes :
Contrary to what has been said in the last news, png sequence I was using will still be png sequence and not exported to videos, due to that same new feature above.
The windows where you falls into numerical sea has disappeared, now it's directly in the lyokowarrior virtual card, takes less space, much easier to read, logic to be shown here since It overlaps the warriors commands :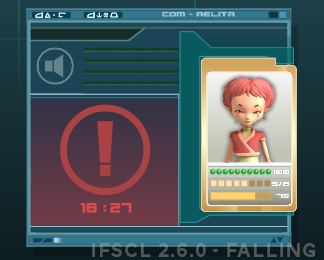 Next news will be about what has been made and still need to be made before the release of the new version, that Is now clearly planned to be released during this summer. Also a few screenshots and possibly, a more precise date for the release.
Oh, and IFSCL next version number will be 2.6.0