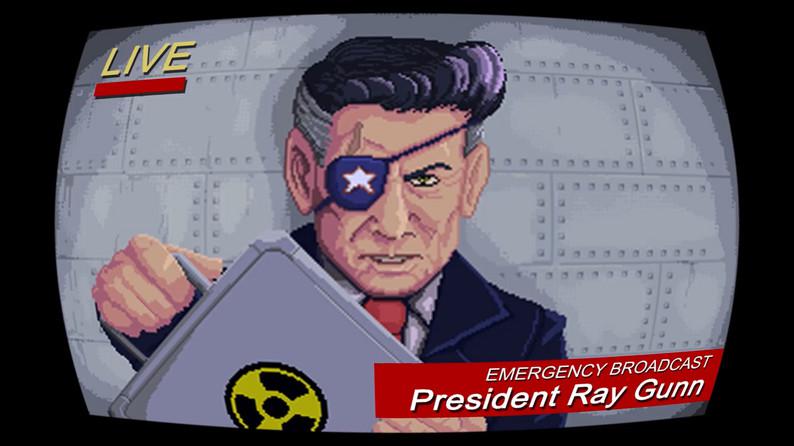 Many months has it been since HyperParasite inaugurated New Year's with a developer log and while you/we may have dreaded the long list of features that needed implementing at the time, here's your first look at a very different beast.


Indeed it's been more than a month since the game's official trailer debuted, bringing along with it al all-new preview of HyperParasite proper and one of its primary narrative characters -- President Ray Gunn.

We'll leave the latter to his expletives for now but first, let's quickly recapitulate our six-month progress shall we?


Chinese Take-Out
Whereas the prototype comprised but the single procedurally generated level of Downtown, the core of HyperParasite's graphical setting and game-play mechanics, Acts I and II of V are fully functional.
In contrast with the first Act's many mini-bosses, re-written Boss fight we fondly like to call Double Trouble and several sub-levels of the Sewer variety included upon the original gritty Downtown design, Act II's Asia Town might seem like a nicer place to be.
In between the cozy oriental neon lighting and secret sub-levels called Bowels of Asia and The Underground Temple however we doubt you'll be stopping for some chow-mein.
A Different Beast
New environments call for new enemies, and so our artists have kept ahead of the programmers in completing designs of every character, boss and mini-boss you'll encounter across either of HyperParasite's five acts.
The programmers meanwhile have refactored the original mechanics for both Acts I and II, which means that while HyperParasite still operates in classic twin-stick, top-down fashion, everything else feels, looks, and is very different.
Taking into account the mixed criticism with regards to offered difficulty, are improved controls for ranged/melee combat, smarter enemy tactics, special attacks for each, skill upgrades for your parasite and the ability to dodge-roll.
If eventually none of that works for you however, we're even considering the release of a specialized Mod Tool alongside HyperParasite's forthcoming early access builds to tweak its difficulty statistics as per your needs.
About Those Degenerates
Evidently including 60+ character classes within your rogue-lite SHMUP comes poses its own set of problems. Do we let players body snatch any other character classes as and when encountered? Or must character classes be 'unlocked' in somemanner before players can body hop min-combat without repercussions?
We've decided to opt for the former for now albeit with a catch. Every new character that the parasite snatches for the first time will be subject to degeneration, meaning their HP will progressively dwindle until it reaches a value of one, where it stays until a stray bullet ends the host's body and boots the parasites into free space.
Providing players with only a limited window to make use of a newly encountered character's abilities then, the parasite itself has been made susceptible to single hits and consequent permadeath. This is to overemphasize HyperParasite's hardcore parasitic nature and to prevent players from illogically free-roaming outside a host's body.
Shopping For Eggs
Given that, how does one reasonably unlock a character class and prevent degeneration? Eggs.
Yes eggs, that players can lay into the heads of the deceased characters they may have encountered for the first time. Successfully doing so within the time provided allows for the eggs to hatch and release a parasitic relative that follows the player across the Acts.
These relatives can then be led into designated areas wherefrom the original host's DNA may be extracted, and the corresponding character class unlocked for good. As for the areas themselves, those are to be situated in Shops located within each level where players may also choose to barter in items, skills and equipment upgrades.
Switch To Xbox!
We're just as thrilled as you are; HyperParasite has not only been approved by Microsoft's ID@Xbox but a Nintendo Switch dev-kit has been delivered to and successfully runs this top-down shooter at our office.
As in the nature of these things however we still don'th ave a definite release date; a Q1-Q2 2019 looks most likely. HyperParasite is designed to be highly modular and with our programmers now moving towards Acts III, IV and V, the plan forward entails the iterative inclusion of new game-play material into the existing build.
Chances are you might be interested in playing this existing build, and so you'll find that the HyperParasite prototype on itc.io has been replaced by a slice of the full game priced at $19.99 USD.
The current itch.io build contains all the above features, will be subsequently updated with more content (and possibly the Mod Tool) through our production cycle, and servers to provide you with inside access into the game's development process.
Besides of course providing us with a channel of funding, itch.io will also help us gauge user interest/feedback ahead of a possible Early Access release on Steam later this year. Although cross-platform purchases won't be supported, those wishing to purchase the itch.io slice will be granted free access to HyperParasite on Steam upon launch.
Speaking of which, don't forget to visit our brand new official page on Steam and wishlist HyperParasite!
-- Troglobytes