We were busy the past two weeks, working on other islands in the game. You might have noticed the green and somewhat ancient landscape in some of the screenshots. That's the second island and is currently under construction. Some of the graphics is there, but the functionality is still in wraps. There will also be the third island, which is still on paper :) You can see some of the second island on our #screenshotSaturday pics in case you missed them…
This week, we want to share a little bit about puzzles and how they work. As you know, the puzzles are often abstract and require a bit of imagination to solve, but I'm sure you want know more. There will be no specific instructions on how to solve puzzles, you will have to conceive a plausible solution and once the right one surfaces to mind, you will know it can't be any other. Puzzles will be integrated in an open world and to solve them, you will often have to rely on thin clues, which may be regarded as puzzles themselves. Environment itself will often serve as a medium for challenges in the game. Observing, moving and being in the right place may all be a part of problem-solving.
Puzzles will also be connected into chains and each chain will contain several puzzles. This way, puzzles are not just self-containing entities, but a part of a greater whole. At the same time the player will still have the option to take on different puzzles, giving you greater freedom at taking on challenges you find most appealing. This will also make things more interesting, since you'll also have to figure out how puzzles connect. Solving the trials will pave the way to freeing your mother from her curse. Each finished chain will unlock a symbol, slowly lifting the curse that binds the kitten's mother to her petrified state. You will be able to review your progress in a convenient progress window, where these symbols are displayed.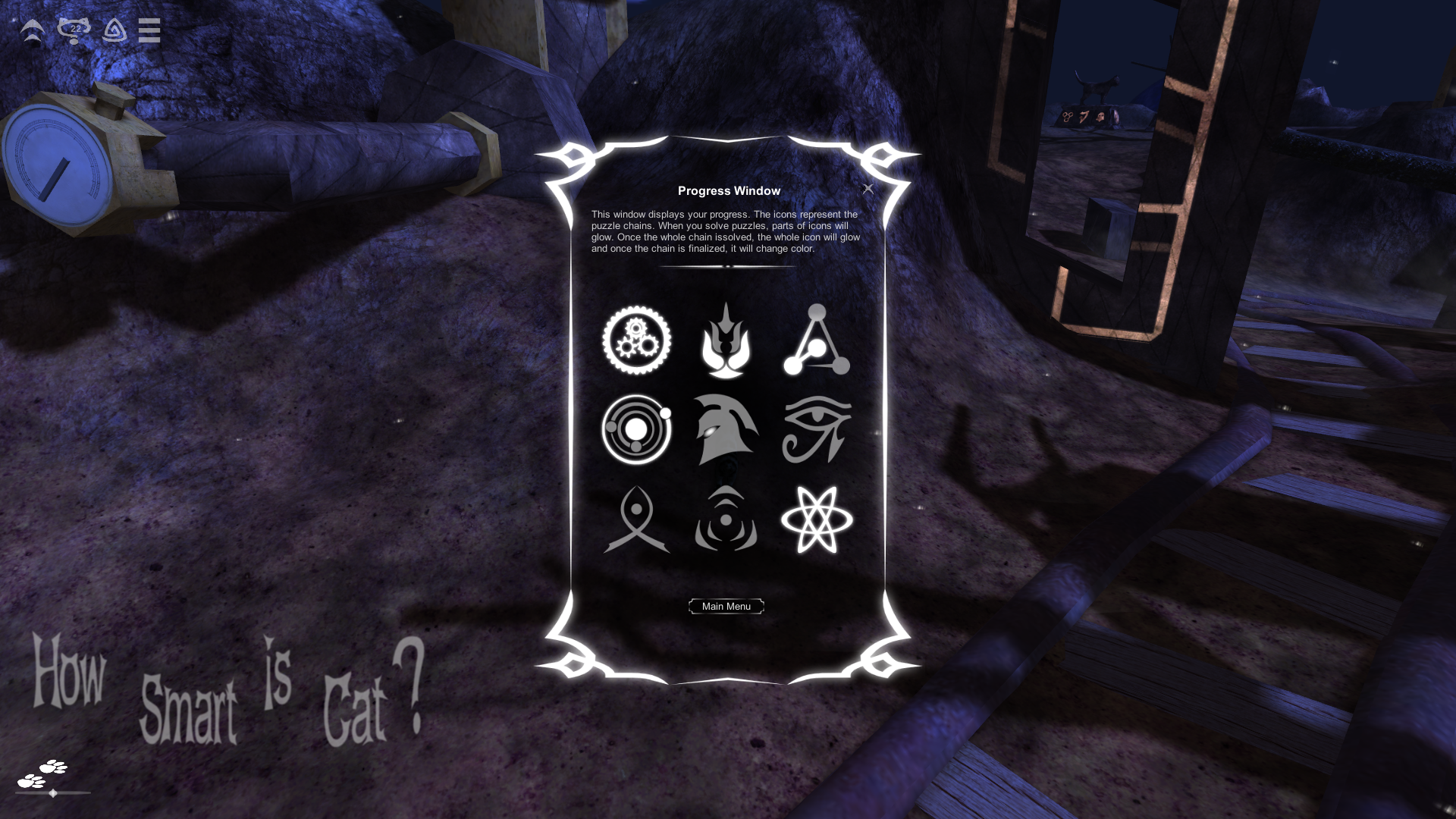 Screenshot 3 - The progress screen
Every time you solve a puzzle a part of a symbol will glow, once you solve all the puzzles in a chain the whole symbol lights up, letting you know you solved the whole chain. In order to unlock symbols on your mother's statue, you will also have to finalize the chain once you solved all its puzzles. We are yet to decide how that will be shown in the progress window, suggestions are most welcome :)
Now you are probably wondering, how the puzzles look in the game, so we put together a video that will hopefully clear things up a bit. There may be spoilers, since explaining how puzzles work, takes away a tiny bit of the mystery, but we think we didn't reveal too much.

Video 1- About puzzles
Thank you for tuning in and if you like our work follow our efforts on Facebook, Twitter, Tumblr and YouTube.