Hartacon Tactics website is online at www.hartacon-tactics.eu
The game's press-kit is available for download at www.hartacon-tactics.eu/public/press-kit.zip

A new Hartacon Tactics alpha build has been released, featuring online multiplayer battles.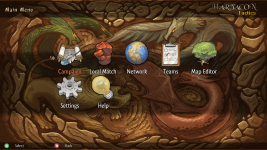 The new build comes with an improved map editor, and the new desert tileset. Players can challenge each other on maps of their own creation.