Greetings sunshines!
It's time for a slightly early monthly update since the Alpha Test date has been locked down. These past few weeks have been mostly full of world building but a few lines of code also got in.
Musical Instruments
The previous version of Gekkeiju Online already introduced musical instruments. This time, however, the system works a lot better with support to ABC notation. Only 3 octaves are supported though.
Basically what this means is that players can load up ABC-file and play it using their equipped instrument. Parties also support synchronized playing so party members will be able to play different instrument versions of the song.
If you're interested in getting some ABC-files for the Alpha-test then The Fat Lute is a rather huge library with compatible songs.
Building of Kyrt
Building of Kyrt continued but the city is still far from ready - the castle and harbor market were added this time. The city is now also connected to the rest of the world with a road so it'll be possible to explore it during the Alpha test.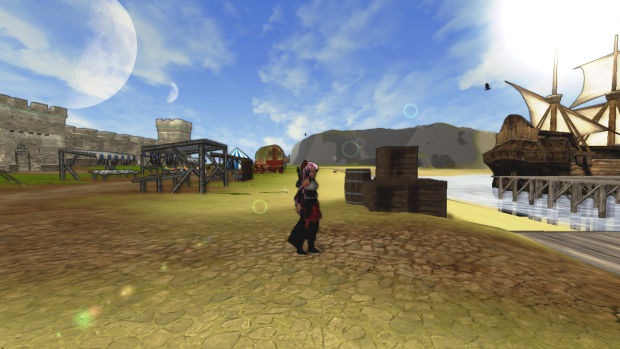 Mage tutorial quests
The tutorial quests can now be played through with Mage character class as well. However, most of the quest rewards haven't yet been optimized for magic users. Mages also don't yet have any extra abilities available.
Health bars changed
Health bars used to show only on top of selected target. This, however, did not work too well with action oriented combat so now health bars show up on top of enemies whenever they receive damage.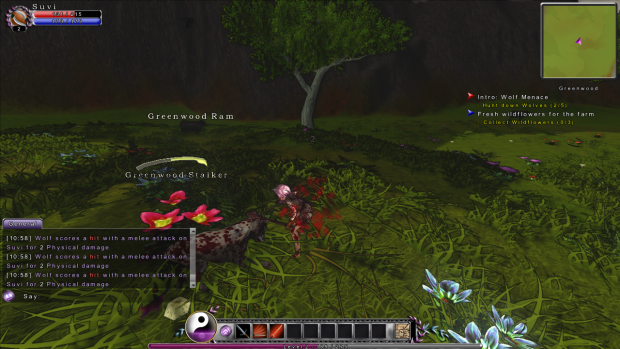 Alpha Test 18th-20th July
The next public Alpha Test weekend will be held during 18th and 20th of July. The plan was to hold it after Oculus Rift DK2 shipped but currently it seems like it's not happening before the test. There's also not enough time to implement support for DK2 even if they happen to ship before the test. However, DK1-mode should work fine.
The account creation-page for the Alpha is already available here. The created accounts need to be activated using activation email that will be mailed after the creation.
Even those who have participated in previous tests will need to make new accounts.
The client-download link will be made available nearer to the test weekend.
Min requirements for the client are:
Windows 7+ 64bit
4gb RAM
Radeon HD 4890+
If you're planning on trying the Oculus Rift-mode then you'll also need a gamepad that has been calibrated in Windows. The Oculus Rift-mode will naturally require the fastest possible hardware you can get.
What's coming next?
Next steps will be mostly bug hunting to make sure the currently available 3 character classes will work during the Alpha.
Some quest dialogs are also still using the old format so at least some of them will be converted to the new one.
See you all online during the Alpha!