Thanks to the support, suggestions, and votes of IndieDB, Giant Bomb, Nerd3, YouTube, Steam, and other online communities Gang Beasts has made it to the top 5 games on Steam Greenlight!
If you want to help Gang Beasts get on the Steam please vote for it on the Gang Beasts Steam Greenlight page.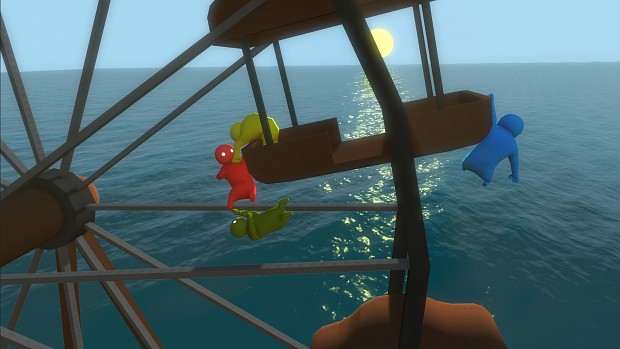 We have also set the list of changes we are making for the next Gang Beasts build (build 0.0.2), the key fixes in the next build will be:
A fix for the knock-out bug (that stops Gang Beasts from recovering when made unconscious)
A fix for the falling state (for situations where Gang Beasts shouldn't be rigid but are, for example hanging from ropes or falling from elevated platforms; to make it easier to swing on ropes and to make falling more consistent).
the key additions to the build are:
The Incinerator / Furnace stage
The Big Wheel stage
AI enemies (in the Sandbox stage)
Wincing/Grimacing (e.g. Gang Beast's eyes close briefly when hurt)
Health bars (green/red bar to show the Gang Beast's current health when hurt)
Additional sounds
We have made most of the fixes and changes but still have to add AI enemies to the sandbox stage, fix the knockout bug, and finish the Incinerator and Big wheel levels, if we don't have serious technical issues making these changes we plan to submit the 0.0.2 build to IndieDB on Friday the 7th of March.
Thank you for supporting and playing Gang Beasts.
There is no need to ask for Boneloaf's permission to record and share Gang Beasts gameplay videos on YouTube or other sites (this includes monetized YouTube videos).