A ginormous thank you to everyone who has supported, promoted, and shared Gang Beasts on IndieDB, Steam Greenlight, Facebook, and Twitter.
We are now approximately 25% away from a place ranking in the top 100 games on Greenlight, If we can get enough votes to take Gang Beasts in to the top 50 games it is possible that we could be included in the next round of Greenlit games.
Please consider helping us by voting for Gang Beasts on Steam Greenlight if you have enjoyed playing the game or would like to see Gang Beasts on the Steam Store.
Thank you also to all of the people who have made positive comments about Gang Beasts on IndieDB, Steam, Facebook, Twitter, YouTube*, and Google+, and in the Giant Bomb, Penny Arcade, NeoGaf, and other gaming forums.
* There is no need to ask for Boneloaf's permission to record and share Gang Beasts gameplay videos on YouTube or other sites (this includes monetized YouTube videos).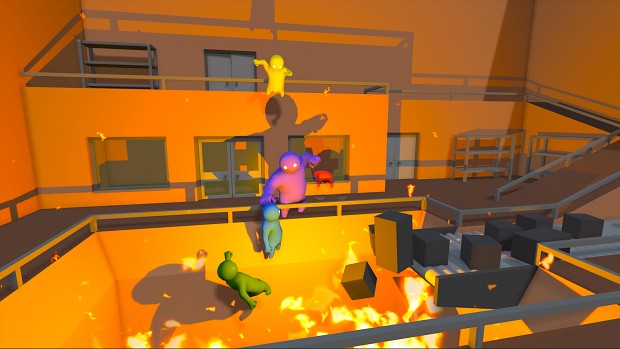 Gang Beasts has been downloaded 4,745 from IndieDB in the week since we made the first public pre-alpha available, the next build will be 0.0.2, for this build we have been prototyping additional levels (including the incinerator level shown in the video), testing other character body shapes, working on enemy AI, and fixing issues. A full list of information about the changes will be included with the download.
We will make a post announcing when we expect to release the next Gang Beasts build next week.
If you want to make suggestions for Gang Beasts level please post them on IndieDB or on the Gang Beasts Where do you want to fight your friends? page.