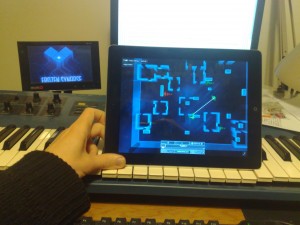 I've just had my first couple of days with the "raw" build of FS iPad and I've been working on going through the entire UI making notes of conflicts and problems.
I feel reasonably positive at this point that some of the fundamental UI structures in the game will remain in-tact, but also that there are a lot of challenges.
At the moment, we're using "hold down one finger" to open the orders menu – this is basically not working at all, so we'll need an entirely different system. Similarly, double-tapping to make a waypoint is pretty cool, but it's very easy to accidentally double-tap when you're either moving an existing waypoint, or scrolling the map around.
At the moment, we're using "pinch-to-zoom" and "drag an empty piece of map" to do map control – as I've just told Ian I love the way both of these are working and I want to preserve them, even if we need something like a separate "I am moving the map around now" mode to do so. It just feels really natural, as that's the way you interact with a map intuitively on the device.It's interesting how some small UI elements (like the aim handle) actually work reasonably well on the 'pad. Obviously, they still do have conflicts and we need to work on those, but it seems like size / distance apart aren't the only thing that matter with UI's on the device.
It's too early to suggest proper solutions to everything at this point, because every solution will have to be a compromise / balance with something else. The process of getting into the game a bit is productive though, and I hope to have most of my notes finished tomorrow.The next stage is for Ian and I to figure out exactly what initial changes we want to make so that we can continue testing and iterating.