Every few months or so I like to take a break from my regular routine and pay a bit of attention to some of the graphical elements in Fractured State. I started off with adding some additional lighting to our test map - since we had lamp post assets finished and in game it made sense to make them emit some light!
Here's a before and after: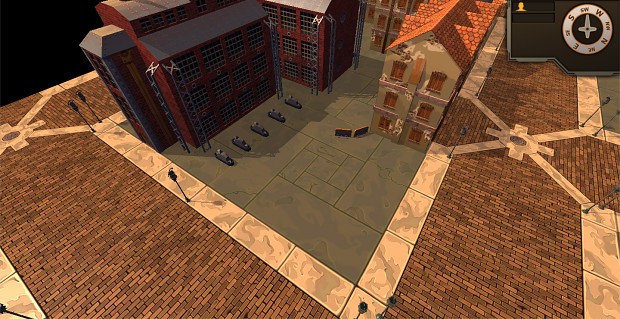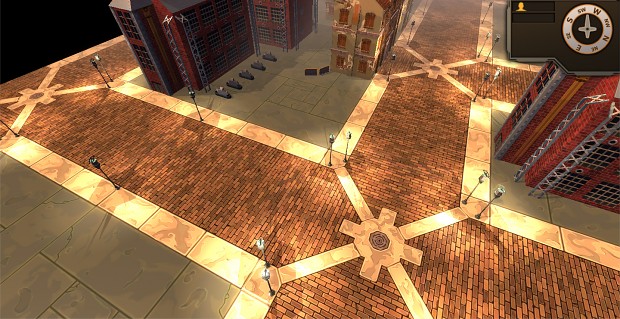 I briefly experimented with adding halos and some flare effects to each light but...well let's just say that things got a bit out of hand.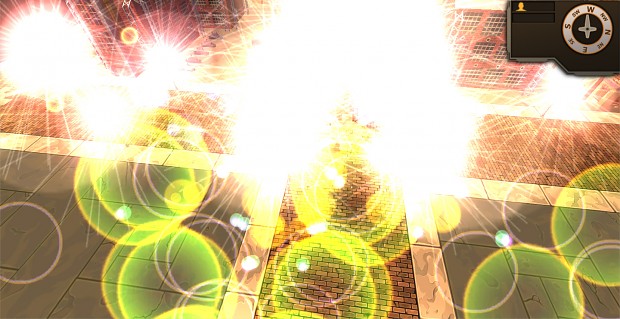 Clearly I am not supposed to this kind of stuff. Where's Todd when you need him?
You'll also notice an in-progress UI element in the upper right corner of the screen. Eventually this will hold global information like your current population and cooldown timers for your incoming reinforcements - more on this in the coming weeks as the systems get implemented and polished. There's also a compass which, to a certain extent, replaces the typical mini-map you see in other RTS games. In an effort to keep our UI minimal (this is about all you'll see in a match) we're implementing an aerial tactical map that you'll switch to and this compass which helps to keep you oriented when in the regular view.
I also implemented an overlay for garrisoned buildings. Originally, we had planned for the player to manually switch between an Interior-only and Exterior-only view with the game camera but ultimately decided that it broke up the flow of play too much and instead opted for this.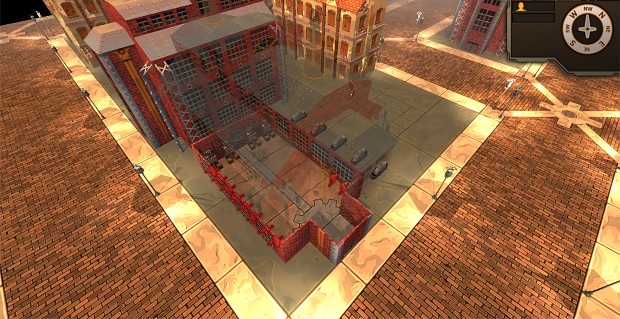 This is currently only implemented for taller buildings. Shorter buildings, like the Barracks, currently don't use this effect - or more specifically, are too short for the effect to show anything of value.
You'll also notice that the house color outlines around units have been improved. We feel that not only does this effect look better but it also helps to increase the readability of the individual unit. Here's a better look.
How do you like the way our style is progressing? Hit us up on social media or leave a comment below and let us know what you think!