I've been keeping the chatter to a minimum these last few months. Sorry to leave you in the dark, but I haven't stopped working on Fleet. Life got a little busy, so I've been careful about how I spend my time. In this case, I reasoned that blogging about the game was less important than working on it. A fortunate by-product of my radio silence is reflected in the kind of things I've been working on - they aren't particularly screenshot-friendly.
A big part of the last few months has been building on the ideas behind the game loop. There's no point in me simply building a space-based real time strategy game - it needs to be fun, and it needs its own unique approach. I've been spending time refining this approach, adding and removing features from the plan document. My main focus has been on ensuring that the player is not overwhelmed by minutiae, and has a clear influence over the strategic and tactical direction of their fleet. The result is an objectively better game plan.
So, time for a rundown of what's new!
Extreme Makeover: UI Edition
Most notably, the UI has been completely rebuilt and restyled. It's still a work in progress, but here's an example of the ship selector and orders panel.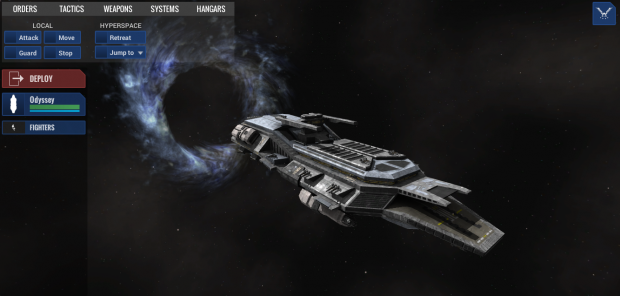 The colours are fairly strong but not bright, so you can see the buttons clearly and they aren't distracting. I'm hoping to introduce more colours to differentiate different button functions.
Jack of all trades, quite good at a couple
I can code. I can make 3d models. However, music is something that I have not even an ounce of talent in. Not to worry, because versatile composer Lyndon Holland has stepped up. We're still some way off getting a soundtrack - funding needs to come first, of course - but I'm really excited to have Lyndon on board. His music will add a great atmosphere to the game.
Oh this? It's just something I threw on
Outfitting your ship has been touched on before. As a feature, it was more in the proof-of-concept stage, making sure the engine and database could handle it. It's undergone a major rewrite, and now it's kind of a bigger deal. In addition, the fitting screen itself has been totally rebuilt, and no longer relies on a ship to actually be present in the game area. This means, in theory, you could be refitting ships all over the sector without having to jump about.
Here's what the fitting screen looks like now.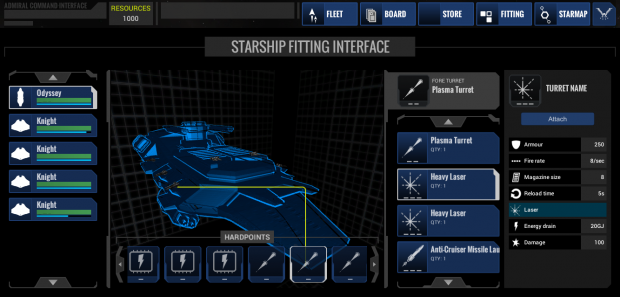 What are those three lightening-bolt icons for? Well, they're not quite ready for the spotlight just yet, but we'll be revisiting them in a future dev blog. You might also have questions about one or two other buttons in that screenshot as well. Well, I've got a to-do list as long as both my arms before I can give any worthwhile details, but upcoming blog posts will have more details when those items are ready to show.
Let your gunner handle it
To add more strategic depth, turrets now have limited arcs of fire. In most cases, this was for practicality - some turrets have up to half their view obscured by the ship they're attached to. Limiting how far they can turn saves time in figuring out what can actually be targetted.This also feeds in to another nice improvement - big ships can now target multiple enemies depending on where they are in relation to their turrets. This works well for picking on targets of opportunity when idle.
Hitlist
The idea of attacking multiple targets has been extended to the player's attack options as well. A group of selected ships can be told to attack multiple enemies in a single order - they'll work through the target list, engaging enemies according to their weapons loadout.
Beyond the neighbourhood
This is pretty much the definition of the type of "stuff you don't see" that I work on. Aside from the obvious 3d representations of ships seen in the game, a lot of work has been done to enable out-system ships to be tracked and manipulated by the engine. Still much to do in this area, but it opens up the game world to beyond that which you can see.
There's still plenty more going on in the code - my current focus is on expanding and improving the usefulness of the command palette, so there'll be more on that in the next update.
Until next time, spacers!