Private Alpha
Sumerian Blood is now released as a private alpha. Eventually the game is going to cost money, but at this critical stage of forming the gameplay, it will be released as a free alpha.
When the time will come to sell the game, I will probably stop releasing free alphas.
What is Sumerian Blood?
"Sumerian Blood: Gilgamesh Against the Gods" is a 1vs1 game, in which two opposing armies fight each other. The game is split between a strategy board and an action arena. The two complement each other. In the strategy board you are moving your units, one unit each turn. When the units step on the same cell, a battle arena screen opens and the units fight each other to the death. Depending on the cell the battle occurs on, the units gets an HP bonus. The left army gets a bonus for light cells and the right army gets a bonus for dark cells. To win, you can either wipe out the enemy army or control all 5 power points. In the future there will be other\different winning conditions. The game support both local and online multiplayer, no single player for now.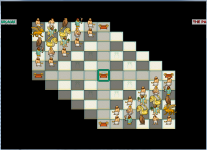 Who are the Sumerians?
Sumerians are the people used to live in ancient Mesopotamia(nowadays modern Iraq), around 4000BC.
Mesopotamia was called "The cradle of civilization" since so many development in history were seen for the first time in Mesopotamia. From the first cities, to inventing a writing language, to agriculture and other things.
The game units and setting is based on mythology and history of Mesopotamia. The story is that Gilgamesh(A Sumerian king) has angered the gods, and specifically the creator god An, and thus a battle between Gilgamesh(followed by his people) and the gods is set in motion. Currently there is only Gilgamesh's army in the game, and even then it is not yet complete.
How to play?
You will need to find a friend to play with, or look for players on the forums. You can either play locally or online as a client\server set up. The ports used for the client\server set up are 21515 for UDP and 21516 for TCP. If you have problems setting a game, just post in the forums or PM me. Controls can be changed by editing the file Control1.txt and Control2.txt. These are the basics. If you want to play a match against me, just PM. We will try to arrange a friendly match. :)
How to get it?
The idea was that you would either watch this game or add the forum as your favorite. Technically, I wasn't able to enforce that, so in order to get the alpha you just need to look at the