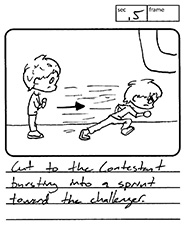 We totally skipped an entire season. Seriously, not a single update since April. Our bad.
As you can see, though, development didn't stop. Brandon has been working on storyboards while Jeff has been engine-shopping. The utter broke-ness of boredom's products forced Brandon to learn how to draw Sarah's characters in very Japanese game show-esque and video game-centric (and dare we say, over-exaggerated cultural stereotype-o-rific) situations.
Brandon has gained a level! Artistry +2
Some of the aforementioned "situations" now include special moves which the player may execute to earn points, reduce the stress level of the hugee (sp? even a word?), or increase their point multiplier. Neat, huh? Click here to get a sneak-peek at a special move in EHSC!
Before anyone can see these cute characters doing over-the-top things, though, we need to find an engine. Jeff's been doing some research and slowly deciding whether to create an engine himself or license a (preferrably free) pre-existing engine compatible with XNA. The Tomahawk Engine is currently a top contender, but nothing has been decided yet. If you have an engine recommendation, or represent an XNA-compatible engine and want to work with us toward implementing your engine into EHSC, feel free to email Brandon.
And, as always, don't forget to become a fan on Facebook for more access to behind-the-scenes coolness!